CD Review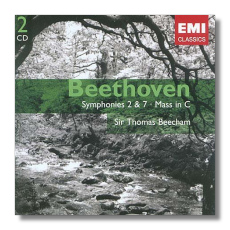 Symphony #2 in D Major, Op. 36
Symphony #7 in A Major, Op. 92
Mass in C Major, Op. 86
The Ruins of Athens, Op. 113 – Excerpts
Beecham Choral Society
Royal Philharmonic Orchestra/Thomas Beecham
EMI Gemini 586504-2 2CDs 133m ADD
This is one of the issues in the EMI Treasures series and it could be described as one of the most welcome. Not only are the recordings of an exemplary technical standard, remastering included, but from posterity's perspective, Beecham's Beethoven is still invigoratingly captivating and terrifically fresh.
Symphony #2 has moments of delicate grace, which Beecham alternates superbly with the fiery ideas that Beethoven presents in large parts of this work, particularly the outer movements. In Symphony #7, Sir Thomas betrays the sheer joy he experienced when conducting this absolute masterpiece. Critics agree that this is Beethoven's greatest symphony and Beecham was definitely of the same opinion. This version, taped at Abbey Road Studios, London between April and July 1959 has a wide dynamic range, which gives it a breadth of majestic nobility. The reading is brisk and luminous, but when required, Sir Thomas can also highlight passages of great grip and power.
In both works, the Maestro is scrupulously attentive to all details and markings, turning out classic and uplifting accounts of sincerity and transparent clarity. The Mass in C Major, composed in 1807 had scant success in the composer's lifetime and by the time Sir Thomas recorded this version in April 1958, things were pretty much the same. It was only in the mid-seventies that this mass started gaining in popularity, although the Missa Solemnis remains Beethoven's most revered sacred work. To all intents and purposes this recording can be strongly considered as a pioneering one, and although the composer gives the impression of a not too rich vein of inspiration, the work is full of interesting innovations and 'quasi' devotional touches. Sir Thomas gives a wonderfully balanced and controlled interpretation making a very strong case for this still underrated composition. The Beecham Choral Society and all four soloists (Jennifer Vyvan, Monica Sinclair, Richard Lewis and Marian Nowakowski) all deliver their parts with a tenderness and warmth of sentiment that allow the music to express itself with emotional conviction.
The six excerpts from 'The Ruins of Athens', Op. 113 are dispatched with a charm and wit that only Sir Thomas knew how to achieve. The Turkish March and Chorus of Dervishes are great fun indeed and together with the other four pieces, this music makes a very satisfying end to a wonderful treasure trove from the rich Beecham 'gold mine'.
Copyright © 2005, Gerald Fenech