CD Review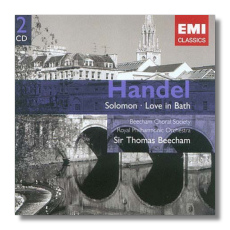 Solomon, HWV 67
Love in Bath – Suite
Elsie Morison, soprano
Lois Marshall, soprano
Alexander Young, tenor
John Cameron, baritone
* Ilse Hollweg, soprano
Beecham Choral Society
Royal Philharmonic Orchestra/Thomas Beecham
EMI Gemini 586516-2 2CDs 150m ADD
Let me say straight away that this 'Solomon' version is a far cry from the original Handel composition of 1749. Beecham's intentions, I am sure were sincere and well founded but I just cannot agree with the way he mutilated the score, reducing it from three acts to 2, by omitting Act 2 altogether, apart from other drastic cuts and revisions in several other places. True, the only oratorios frequently performed during the era when this recording was made were 'Messiah' and 'Israel in Egypt', and to a lesser extent, 'Samson' and 'Judas Maccabeus', but this unjustifiable neglect still did not warrant such a compromised approach to popularize Handel's music.
Having said this, the album, taped at Abbey Road Studios in London in 1955 and 1959, still remains one of Sir Thomas' genuine pioneering projects to re-launch the Handel star towards its rightful place, and his efforts, at least to my mind, are highly successful. The spirit of the music remains intact, the re-orchestration is a delicate fabric in the true Handelian mould, and the cuts and changes cause scant damage, if at all, to one of the weakest plots that Handel ever set to music.
Beecham's realization also set out to emphasize the beauty of the arias and duets, and to prove that these were not at all inferior to the large and stirring religious choruses for which the composer was justly famous. One must here draw the attention not only to Sir Thomas' great love for Handel, but also to his vast span of knowledge of the composer's works. This is amply demonstrated by the fact that the Maestro put together a considerable array of orchestral suites all built on sources from Handel's output. 'Love in bath' is one such work, compiled in 1945, when most audiences were unfamiliar with such compositions as Rodrigo, Serse, Ariodante and Il Pastor Fido. The Suite is made up of 22 numbers taking up almost 48 minutes but in spite of its lack of authenticity, it is nevertheless a beguiling work full of originality and vigorously fresh tunes. It is also a strong testimony to Beecham's erudite knowledge of Handel's style as well as his innate ability as an orchestrator and arranger.
Sir Thomas milks every ounce of emotion from the soloists, his own choral society and the Royal Philharmonic Orchestra, driving them to dazzling heights of sonorous brilliance. Sound quality is top notch, thanks to the indefatigable efforts of the EMI engineers and today's hi-tech tools. An enjoyable set for all those who cherish music for its own sake, but not for strict Handelians.
Copyright © 2005, Gerald Fenech