Related Links
Recommended Links

Site News
DVD Review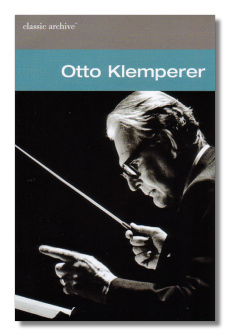 EMI Classic Archive
Symphony #9
Symphony #7 *
Agnes Giebel, soprano
Marga Höffgen, Alto
Ernst Haelfiger, tenor
Gustav Neidlinger, bass
New Philharmonia Chorus
New Philharmonia Orchestra/Otto Klemperer
* Orchestre de l'ORTF/Ernest Ansermet
EMI DVD DVB5999339 117m All Regions
This is one of those treasure troves in the EMI Classic Archive Series. After compulsive viewing, it proved to be more than that. When Otto Klemperer walked to the podium on the 8th of November 1964 at the Royal Albert Hall to conduct Beethoven's Choral Symphony, there was an aura of expectancy and trepidation as the great conductor was still slowly recovering from a grave illness. Many were expectantly asking how he would fare and if he was up to the task.
At the end, the audience was in raptures, not only at the glowing interpretation that Klemperer succeeded to ooze out from his soloists, chorus and orchestra but also at the sight of a great musician so dedicated to his art that in spite of his feeble body, he was able to transfuse to all the great strength of his indomitable spirit. Although he conducted sitting down, his eyes were as sharp and commanding as those of one in his prime. All the soloists gave their heart out, and I cannot honestly single any one as being better that any of the rest.
The New Philharmonia Chorus under that genius of choirs, Wilhelm Pitz were absolutely enthralling, particularly in the fortissimo passages, which form the core of the fourth movement. The New Philharmonia Orchestra and Klemperer had a wonderful relationship for many a year and this is evident in this performance. Their playing was a real 'Ode to Joy' in Klemperer's honour. Just seeing him in front of them was enough to inspire them to a glowing interpretation that can hardly be surpassed. At the end, they applauded the conductor with tears in their eyes. Remastering is truly miraculous producing a picture, albeit black and white of superb quality.
There is also a bonus interpretation of Beethoven's #7 by Ernest Ansermet filmed at the ORTF in Paris on the 25th November 1967. Although this is a very satisfying version full of drive and energy, it is the Beethoven/Klemperer combination that carries all before it.
Copyright © 2005, Gerald Fenech