Related Links
Recommended Links

Site News
CD Review
The Erato Story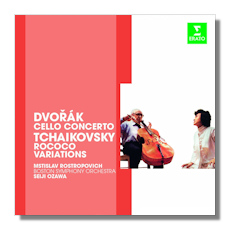 Mstislav Rostropovich, cello
Boston Symphony Orchestra/Seiji Ozawa
Erato 82564633426
There are six studio recordings of the Antonín Dvořák Cello Concerto performed by Rostropovich listed in the liner notes of this reissue. Of these, the Karajan/Berlin Philharmonic reading from 1968 is probably the favorite, and offers the strongest competition to this one. The great cellists' only digital recording of the work he practically owned is notable for the sterling support of the Boston Symphony under Ozawa and a still wholly convincing view of the solo part. It's only been sporadically available on CD in the US, and generally only as an import. It's good to see Erato paying it some attention in this series (The Erato Story) documenting the label's history.
Honestly, the Karajan version from 1968 is still pretty amazing. It features the Berlin Philharmonic in absolutely staggering form, and the conductor on his best behavior. You should probably own that disc as well, if you don't already. Still, this later version is equally important. The sonic picture is more natural, and Rostropovich worked just as well with Ozawa as he did with Karajan. I even prefer the Boston Symphony in certain places, and the leaner string textures actually prove welcome on repeated listening. If Rostropovich is somewhat less robust in his playing, this remains a remarkable achievement regardless. The slow movement is worth every penny, and the entire reading is reference material.
In the Variations most critics lean toward the Karajan version, and I would agree. But this version is still excellent, and were it not for the earlier take it would probably rank as the best. Again, if the cellist has aged, the music making is still exceptional and well worth hearing. Whatever disc you pick, on whichever label, Rostropovich is the cellist of choice for both pieces. It's great to see this disc back in print.
Copyright © 2014, Brian Wigman