CD Review
Dancing Through Time – Bach to Gershwin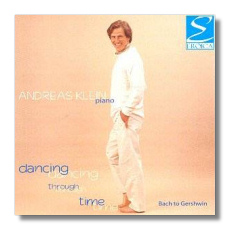 Andreas Klein, piano
Recorded at the Stude Concert Hall in Houston, Texas in August 1997
Eroica JTD3138 70:22
I tend to have mixed feelings about 'theme' discs in that they often succeed in conveying the full spirit of the theme without offering any individual performances that are distinctive or compelling. Such is the case with this Andreas Klein recording that gives us a snapshot of 300 years of music possessing dance rhythms. Perhaps the cover photograph of a barefoot Klein smiling at us and dressed in preppy clothing offers a good hint of the performances. They are on the benign side and rather optimistic as if Klein is saying to us, "Let's dance and have fun".
On the other hand, I don't want to give the impression that Klein is an inconsequential pianist. A graduate of the Juilliard School of Music, he has studied with Claudio Arrau and Nikita Magaloff. Klein's soloist career has included recitals at London's Wigmore Hall, the Berlin Philharmonic Hall, New York's Carnegie Hall, and the Kennedy Center in Washington DC. On the preset disc he is technically adept, rhythmically alert to the various dance patterns, and always has a keen sense of the sweep of the music. In Bach's Suite in G Major, Klein gives a beautiful performance of the Allemande, his Courante is a lively affair, and the Sarabande is quite poignant. He fully conveys the impetuous changes in the dance rhythms of Schumann's Papillons, the melancholy state of the middle section of Liszt's Hungarian Rhapsody #6 is thoroughly explored, and Gershwin 2nd Prelude is as sultry as they come.
Unfortunately, failings are more noticeable and prevalent. Bach's Gigue, the final movement of the G minor Suite, has absolutely no menace to it, intensity is lacking in Papillons, and Chopin's Polonaise in A Flat Major is played more as a salon piece than for its heroic representation. The swagger, gusto, and fire of the Liszt Rhapsody is undervalued, and Klein's interpretation of de Falla's Ritual Fire Dance is a tame creature. A sharper picture of Stravinsky's syncopated rhythms would be appreciated, and Gershwin's 1st and 3rd Preludes are not as jazzy as I would like.
I certainly can't find any fault with the program. It offers a fine mix of dance styles, and the works by Bach, Schumann, Chopin, Liszt, De Falla, Ginastera and Gershwin are wonderful creations. I am particularly taken by the Ginastera dances; the 1st and 3rd dances have compelling rapid-fire and motored rhythms, while the 3rd is rapturous music depicting the dance of a beautiful maiden. Given the serious-minded reputation of the legendary pianist Walter Gieseking, his Three Dance Improvisations are surprising for their light and happy moods with the Foxtrot and Charleston anchoring the set. Klein is at his best in these carefree Gieseking pieces.
As an aside, I asked my wife Ellen Jane to give the disc a listen and she found it a pleasant and upbeat listening experience that I tend to agree with. If you want more than 'pleasant', Klein's disc is not for you. However, it should be ample to enhance a enjoyable evening and even dance to a few of the pieces. Sonics are excellent, although higher notes occasionally have a glassy sound.
Copyright © 2005/2006, Don Satz