Related Links
Recommended Links

Site News
CD Review
… The Devil's Thrill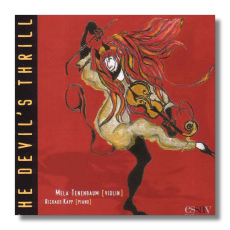 Mela Tenenbaum, violin
Richard Kapp, piano
Essay Recordings CD1078 58m DDD

… and the Devil Made Me Do It!
(same works for viola)
Mela Tenenbaum, viola
Richard Kapp, piano
Essay Recordings CD1079 58m DDD
Richard Kapp's Essay label specializes in recording virtuosic music for both violin and viola. These two discs imaginatively titled 'The Devils' Thrill' and 'The Devil Made Me Do It' include four sonatas for both instruments.
The Tartini 'title track' is well known for its virtuosic pitfalls and powerful parts and here it is quite demonically played by Tenenbaum and the supportive Kapp. The same goes for Léclair's Op. 9 #5, a beautiful work that explores the potential of the solo instrument. Once again Tenenbaum and Kapp are perfect partners and display an enviable rapport that is demonstrated in their innate understanding of the music.
Locatelli's Sonata in D minor is another popular work and the final Allegro is quite ravishing on all counts, especially towards the end. Finally we have Paganini's devilish Sonata in A minor, pure virtuosic passion that has Tenenbaum on truly inspired form.
The idea of combining the works on two discs for viola and violin may be questioned by some but it definitely causes rise for interesting comparisons. Great stuff then and more original fare from Kapp's Essay!
Copyright © 2002, Gerald Fenech