CD Review
… The Devil's Thrill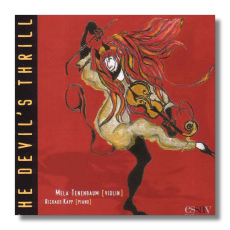 Mela Tenenbaum, violin
Richard Kapp, piano
Essay Recordings CD1078 58m DDD

… and the Devil Made Me Do It!
(same works for viola)
Mela Tenenbaum, viola
Richard Kapp, piano
Essay Recordings CD1079 58m DDD
Does Tipper Gore know? Shouldn't these CDs come with a warning label about satanic messages?
Seriously, of these four sonatas, only Tartini's is programmatically diabolical. The story goes that Tartini, while dreaming one night, was visited by the Devil himself. The Devil, violin in hand, regaled the composer with a display of virtuosity that shook him to the marrow. When his guest departed, Tartini attempted to commit the Devil's music to paper, and admitted that he was only partly successful. Compared to twentieth-century diabolus in musica, the "Devil's Trill" Sonata is tame stuff. However, modern performances tend to exorcise it even more. In his booklet notes, Kapp asks, "If this was supposed to be diabolical, why does it sound so boring [when some other musicians play it]?" Tenenbaum and Kapp put the imp back in impetuousness in their recording of the Tartini. Not since Nathan Milstein has this sonata been so ear-catching, and even Milstein was relatively gentlemanly. Tenenbaum's playing doesn't exactly ignore period style, but her primary interest seems to be communication, not authenticity, and that's fine by me.
The sonatas by Leclair and Locatelli are satanic only in the sense that they make unreasonable demands upon the violinist. Almost three centuries of music history have dulled our sensitivity to what is diabolically difficult to play; almost three centuries of world history have forced us to redefine what is diabolical! In other words, it is hard to make listeners shiver to Leclair when Marilyn Manson is just around the corner. Nevertheless, Tenenbaum and Kapp successfully strive to replace some of the "shock of the new" that has faded from these scores while retaining an essentially seductive sensibility.
Paganini was almost a century junior to these composers, and his presence here is a little jarring, musically speaking. His inclusion can be excused, however, because he was reputed to have sold his soul to the Devil in exchange for his fantastic proficiency on the instrument. If Paganini did little to discredit these stories, that just goes to show that some forms of publicity have changed very little in the last two hundred years.
Tenenbaum plays the so-called Wilmotte Stradivarius (1734) on this CD.
Having recorded this program for violin and piano, Tenenbaum and Kapp turned around and recorded it again, replacing the violin with a viola. The Devil Made Me Do It! was the result. As the viola plays a fifth lower than the violin, last-minute transpositions and rethinkings of piano parts were necessary. To their credit, Tenenbaum and Kapp handle this with perfect aplomb. I enjoy the richer, albeit less brilliant tone of the viola. Perhaps a violin is more appropriate if one wishes to emphasize diabolical brilliance, but there's something pretty scary about switching instruments with Tenenbaum's insouciance.
Excellent engineering from Essay. Prague was the recording locale. Finally, it is worth noting that the striking cover art is by Tenenbaum; the talented violinist is also a talented artist. Now that's scary too.
Copyright © 2002, Raymond Tuttle