Related Links
Recommended Links

Site News
CD Review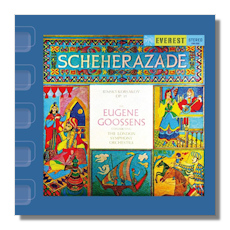 Schéhérazade, Op. 35
London Symphony Orchestra/Eugene Goossens
Everest SDBR-3026
I had not expected to enjoy this performance as much as I did. Recorded two years after the conductor's rather public affair and subsequent disgrace, this is wonderful stuff. It's been available before, first on those drab Everest releases from the mid-1990's and then on Guild in the UK. Now Countdown Media Group has stepped in, beautifully packaging the CD to reflect the original LP. The original notes are here, and the sound remains glorious.
Goossens isn't really mentioned among the great conductors today, and perhaps he wasn't, but he was very well respected and quite musical. He was responsible for urging the construction of the Sydney Opera House, and also conducted the concert debut of The Rite of Spring. As for Schéhérazade, he recorded the first electrical version of the piece in 1929, heavily cut but well-played all the same. Returning to the score in this 1958 recording, it's evident that Goossens loved the work, and that he worked well with the London Symphony. The reading is wonderfully balanced – aided by that fabulous Everest sound – and deliciously flowing as well. The London Symphony always was a touch weak in the lower sections of the orchestra, and that does hurt in a work like this. Overall, the playing is imperfect but committed, and very exciting to boot. The third movement is taken at a faster tempo than some, and that's all to the good. Goossens doesn't rush anything, but he doesn't needlessly languish (Herbert von Karajan, I'm looking at you). The finale is a knockout.
This may not be the essential version of the piece, but since it can be purchased very reasonably on Amazon.com or iTunes, it's a great bargain and easy way to get to know a masterpiece. For anyone who already knows and loves it, this is an entirely worthwhile supplement that demands your attention on musical and historical grounds. A delight.
Copyright © 2013, Brian Wigman