Related Links
Recommended Links

Site News
CD Review
The 1956 Nixa-Westminster Stereo Recordings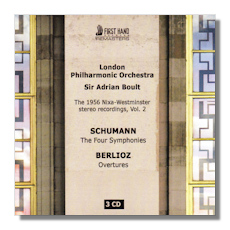 Volume 2
Symphony #1 "Spring" in B Flat Major, Op. 38
Symphony #2 in C Major, Op. 61
Symphony #3 "Rhenish" in E Flat Major, Op. 97
Symphony #4 in D minor, Op. 120
Overture "Waverley", Op. 1
Overture "Le Corsaire", Op. 21
Overture "Le Roi Lear", Op. 4
Overture "Béatrice et Bénédict"
Overture "Rob Roy"
Overture "Benvenuto Cellini" Act 1
Overture "Les Franc Juges", Op. 3
Overture "Le Carnaval Romain", Op. 9
London Philharmonic Orchestra/Adrian Boult
First Hand Recordings FHR07 3CDs 207m ADD
This new set from First Hand Recordings, remastered from Nixa-Westminster originals recorded in 1956, brings back some wonderful memories for yours truly especially where the Berlioz Overtures are concerned. It was one of the first records which I happened two discover a few decades ago when getting hooked on classical music and the energy and vitality of Boult's conducting has been with me ever since. The recordings fairly blast out of the speakers here and it is wonderful to enjoy these first rate interpretations yet again in sumptuously packaged sets which also include copious notes and some rare photographs.
The Schumann symphonies are also quite thrilling with Boult truly at the top of his game yet again. I greatly enjoyed the Second Symphony in particular which is known as the "Cindirella" symphony but there is nothing of lower quality here as Boult finds expressive nuance in several shapes and sizes. Comparisons with Wolfgang Sawallisch's legendary EMI set reveal a near identical approach to these oft recorded works.
One really cannot recommend this set too highly and if you had the opportunity to raed former producer John Snashall's memoirs in two excellent recordings which were issued for International Classical Record Collector way back in 1995 then you probably know what I mean. This is definitely my historical reissue of the year.
Copyright © 2011, Gerald Fenech