CD Review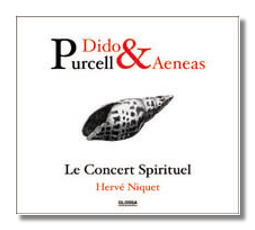 Dido and Aeneas
Laura Pudwell (Dido and Sorceress)
Peter Harvey (Aeneas)
Salomé Haller (Belinda and First Witch)
Marie-Louise Duthoit (Second Woman and Second Witch)
Nicolas Maire (The Sailor)
Matthew White (The Spirit)
Le Concert Spirituel/Hervé Niquet
Glossa GCD921601 DDD 49:19
There are as many ways to present Dido and Aeneas as there are to prepare trifle. Like the dessert, it's hard to make Dido unpalatable because there always will be so many delectable ingredients in it.
Niquet's version, which is tasty enough, has a French accent, both literally and figuratively. Salomé Haller is a warmly supportive Belinda, and her voice contrasts well with Dido's, but English obviously isn't her first language, and so she adds an exotic touch to the court at Carthage. The small instrumental ensemble would sound right playing Marc-Antoine Charpentier, and the ornamentation and nervously dotted rhythms would work in other music from the French Baroque as well.
One of the most interesting aspects of this new recording is the double casting. The three female principals play both mortals and witches. In other words, Dido, Belinda, and the Second Woman plot their own undoing. I suspect this was done for psychological reasons, not for economy, but the booklet note offers no specific enlightenment. In a staged performance, this could be an effective touch, but the point is lost on CD. Still, it's a choice that makes the listener think.
Niquet also seems to have revoiced some of the choruses, although this isn't explained either. The chorus of thirteen (four sopranos, and three countertenors, tenors, and basses each) scores points again and again with the dramatic aptness of their singing. Their caressing performance of "To the hills and the vales" is a case in point. As witches, they cackle and camp it up. An inspired comic touch comes at the end of the Echo Chorus: in their last "echo," the backstage chorus takes their phrase ("for this open air") at double tempo, and then punctuates it with a naughty titter from one of the choristers. It's very Monty Python.
Pudwell's Dido is less memorable than her Sorceress – an imperious and malevolent character for sure. Nevertheless, her great lament is affecting, if more personal and human than regal and slightly distant. Her Aeneas, Peter Harvey, is an excellent partner. It's not a grateful role by any means, and yet he makes it memorable through his access to a variety of emotions.
Glossa has enclosed the jewel box within a slipcase, allowing the inclusion of a large and handsomely assembled libretto and notes booklet. For some reason, engraved shells are the artwork throughout, and you can send to Glossa to obtain a "high quality, frameable print edition" of the four shells. The recording, made in the church of Notre Dame du Liban in Paris, is excellently engineered.
Copyright © 2001, Raymond Tuttle