Related Links
Recommended Links

Site News
CD Review
Symphony #9 in D minor, Op. 125 "Choral"
Symphony #9 in D minor, Op. 125 "Choral"
Overture "Leonore" #3 in C Major, Op. 72a
Kerstin Lindberg-Torlind, soprano
Else Jena, mezzo-soprano
Eric Sjöberg, tenor
Holger Byrding, bass
Danish Radio Chorus
Danish Radio Symphony Orchestra/Fritz Busch
Guild GHCD2343 77:15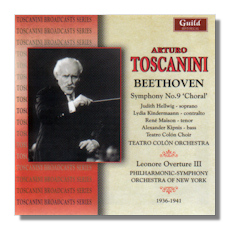 Symphony #9 in D minor, Op. 125 "Choral"
Overture "Leonore" #3 in C Major, Op. 72a *
Judith Hellwig, soprano
Lydia Kinderamm, contralto
René Maison, tenor
Alexander Kipnis, bass
Teatro Colón Orchestra & Choir/Arturo Toscanini
* Philharmonic-Symphony Orchestra of New York/Arturo Toscanini
Guild GHCD2344 77:43
These two magnificent performances of Beethoven's Ninth Symphony are part of a three-volume retrospective on the symphony in historical recordings just issued by Guild. The other features Wilhelm Furtwängler and will be discussed in a separate review.
It is fascinating to listen to these two performances in tandem, observing Toscanini's brilliant yet slightly rushed conducting line recorded live in the Teatro Colón, Buenos Aires on July 24, 1941 and Fritz Busch's slightly more sedate interpretation of September 7, 1950 that is, however, no less revealing of this great work. Their different treatments of the Scherzo for example, result in a difference of two minutes in timing although Toscanini does appear to include a repeat.
The Finale is given equally dramatic conducting by both masters with Toscanini just the more marginally exhilarating. Both teams of soloists are excellent although the rather restricted recorded in the Toscanini issue somewhat reduces the impact of Judith Hellweg. With splendidly informative notes and equally powerful readings of the Leonora overture #3, these are issues which certainly deserve the highest recommendation.
Copyright © 2008, Gerald Fenech