Related Links
Recommended Links

Site News
CD Review
Fritz Busch at the Winterthur Festival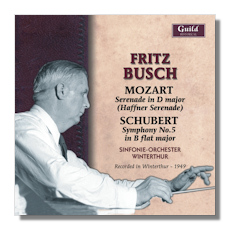 Peter Rybar, violin
Winterthur Symphony Orchestra/Fritz Busch
Guild GHCD2352 71m ADD Mono
These two vintage recordings come from the fabled Winterthur Festival in Switzerland and feature Fritz Busch in truly fine form throughout. The Haffner serenade whizzes through with the fine violin playing of Fritz Rybar ever present while the Schubert symphony is one of those joys to listen to.
Yet again the notes Guild provides for the CD are of the highest quality with pictures and diagrams adding spice to the documentary material. The 1949 recording while not h-fi is clear enough and the Winterthur Orchestra plays with aplomb and directness for their charismatic conductor. This is another excellent reissue from the Guild Historical stable.
Copyright © 2010, Gerald Fenech.