Related Links
Recommended Links

Site News
CD Review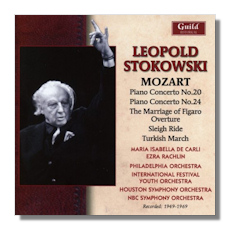 Stokowski Conducts Mozart 1949-1969
Overture "The Marriage of Figaro" 1
Piano Concerto #20 in D minor, K. 466 2
Sleigh Ride (German Dance #3, K. 605 #3 "Die Schlittenfahrt") 3
Piano Concerto #24 in C minor, K. 491 4
Turkish March (Piano Sonata #11 in A Major, K. 331 III) 5
2 Maria Isabella De Carli, piano
4 Ezra Rachlin, piano
1 Philadelphia Orchestra/Leopold Stokowski
2 International Festival Youth Orchestra/Leopold Stokowski
3 Stokowski Symphony Orchestra/Leopold Stokowski
4 Houston Symphony Orchestra/Leopold Stokowski
5 NBC Symphony Orchestra/Leopold Stokowski
1 12 February 1960. Live broadcast. Stereo
2 31 August 1969. Stereo
3 12 March 1949. Mono.
4 24 October 1960. ?
5 9 February 1955. Mono.
Guild GHCD2405
First of all as near as I can discern these are all first releases on CD. I was sure the Sleigh Ride and Turkish March were previously released but can find no evidence to support that. While they may have been available on "private" recordings none have come my way. Then, too, all are from the collection of Enno Riekena and I do have the Piano Concerto #20 on a 'private' release he sent me several years ago.
Stokowski rarely performed Mozart and recorded his music even less. I have, in the Leopold Stokowski Recording Library a performance of Symphony #35 Haffner on a Cala release of live performances with the NY Philharmonic and there was an LP release of Piano Concerto #21 with Myra Hess but that's about it. So, how does Stokowski "treat" Mozart?
In a word, "romantically" fits best. This is Mozart in the vein of Bruno Walter who a friend of mine once observed "conducted Mozart à la Brahms". The Figaro is about as lush and exciting as you can want. I hope I can maintain that electricity at 78 like he did. The sound here is very good, FM stereo. The Sleigh Ride and Turkish March are likewise imbued with The Stokowski Sound; rich, deep and firm bass line. Both are monaural but have excellent sound with no surface noise and offer delightful details.
The only slight disappointment on the disc is the Piano Concerto #24. Part of the problem is the pianist and there I am not sure if it is his fault or the recording. The orchestra sounds thin and the pianist has a clangy, percussive sound. The recording focuses on the pianist and the orchestra is distant.
The best reason for getting this disc, and it is worth the price for it alone, is the Piano Concerto #20. Sound is excellent and the performance exciting and lush. De Carli and Stokowski seem of one mind on the piece (it was recorded after a live performance and released only as a "souvenir" LP). I compared this release with the one I got from Enno (the insert indicates it was remastered) and it sounds fuller and deeper on the Guild disc.
Of course this release is primarily for people who appreciate Stokowski's music making and will not likely appeal to a general audience because of the monaural items but that is their loss. Five star recommendation despite my one reservation.
Copyright © 2014, Robert Stumpf II