Related Links
Recommended Links

Site News
CD Review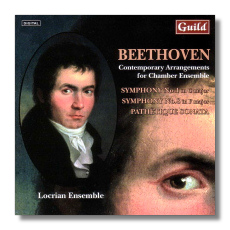 Contemporary Arrangements for Chamber Ensemble
Pathétique Sonata, Op. 13
Symphony #8 in F Major, Op. 93
Symphony #1 in C Major, Op. 21
Locrian Ensemble
Guild GMCD7274 70m DDD
Another original issue from the Guild stable, this time dedicated to chamber arrangements of key Beethoven works.
The sublime pianism of the 'Pathétique' does not always translate so well to the quintet but the originality of the arrangement is rather striking.
The symphonies sound much better, also due to the fact that these works are quite chamber-like in their basic plan. The Eighth is delightful whilst the First is also pretty ravishing, especially in the joyous Finale.
The Locrian Ensemble play with great verve and empathy and Guild's recording is pretty excellent. Chamber music lovers will most definitely be enthused by this prospect.
Copyright © 2004, Gerald Fenech