CD Review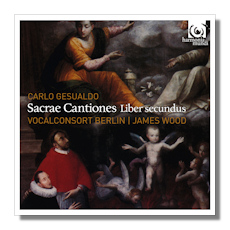 Sacrae Cantiones Liber secundus
Miserere
Virgo Benedicta (Prayers For Salvation)
O Oriens
O Beata Mater
Verba Mea
Veni Creator Spiritus
Ave Sanctissima Maria
Sana Me Domine
Discedite A Me Omnes (Despair And Weeping)
O Anima Sanctissima
Ardens Est Cor Meum
Da Pacem Domine (Peace And Hope)
Ne Derelinquas Me
Franciscus Humilis Et Pauper
Gaudeamus Omnes
Adoramus Te Christe (Praise And Thanks)
O Sacrum Convivium
Ad Te Levavi
Assumpta Est Maria
Veni Sponsa Christi
Illumina Nos
Benedictus
Vocalconsort Berlin/James Wood
Harmonia Mundi HMC902123
Carlo Gesualdo wrote less sacred than secular music: only the three Sacrae Cantiones books of motets that were published in the last ten years of his life (c.1560-1613). Of these the best known is the collection for Holy Week, Responsoria. And in fact both the first and second books (both published in 1603) bore the name Liber primus. Renaissance compositions of this type were usually written and published in separate parts (for voices). So when the Bassus and Sextus parts of the second of the two sets to be published were lost, the collection was apparently effectively useless and unperformable.
Probably driven as much by a determination not to let the mythology which has afflicted Gesualdo (for instance, his status as renown murderer, his experimentalism, and seemingly wayward chromaticism) inform his efforts as by his admiration for Gesualdo, the composer James Wood, also Director of the Vocalconsort Berlin,spent three years of his musicological life (from 2008) reconstructing the Liber Secundus as a contribution to the four hundredth anniversary of the composer's death this year. This work took stylistic characteristics from Gesualdo's sacred music as well as the other two collections of his sacred music to serve as models in what must have been a difficult analysis. Fortunately Wood was aided by consistencies and similarities which emerged between Gesualdo's works: treatment of text, counterpoint, imitation, use of melody and rhythm – all to some extent governed or influenced by late sixteenth century conventions. Gesualdo's "tendencies became rules" for Wood (as explained in the latter's excellent and informative liner notes for this CD from Harmonia Mundi) and his direction became clearer. Wood has a precise meaning for "rules": a pattern, consistency, stylistic integrity; not any external "system" imposed in the way that dodecaphony was, for example. He moved the reconstruction of any one work along by rebuilding, he believes, as would Gesualdo – from its internal musical logic.
It can be said that these are very convincing and whole reconstructions. No lover of Gesualdo should overlook this set. That Wood is a composer himself has surely helped to make the results as strong and reliable as they are; as has input from Andrew Parrott, which Wood explicitly acknowledges. Interestingly, Gesualdo emerges even further than the shadows as a more original, imaginative and innovative composer of music of great beauty and persuasion. Sentiment is privileged; but so are restraint and reflection.
The CD consists of almost two dozen short pieces (none lasts longer than eight minutes; most are under two) which have been grouped according to emotion or religious evocation… prayers for salvation, despair and weeping, peace and hope, praise and thanks. The music is clearly Gesualdo's: it has his calm, sardonic, dry, almost unobtrusively speculative aura. Nothing is hurried; nothing overly dramatic; it never has to be. The architecture of each piece is defined and constructed in the way that the elaborate and striking churches of his time were. Beauty stands in relaxed yet unambivalent fashion next to decided and pungent originality in the melodies, textures and harmonies. Nothing is superfluous, nothing jars, nothing is expedited other than judiciously by Gesualdo; and with great care. Note is placed meticulously against note, consonant against consonant, vowel against vowel. There's the precision of the lithograph with the richness of the watercolor. The result – albeit courtesy of James Wood – is oil.
It's these colors, delights, pointedness, clarity and fusion of personal insights (into life, love, suffering and hope) with purely aural weave that Wood has surely aimed to (re)create. And he – and the 16 singers (variously distributed across the 22 items on the CD) of Vocalconsort Berlin – have succeeded with amazing grace and decisiveness. Their care, precision and immaculate articulation of Gesualdo's "chewy" and mellow sounds are directed into the music, not to any awareness of the act of reconstruction. Gesualdo's richness is apparent in its own right and its own ways. Tempi are sedate, beautifully paced, in fact: the unencumbered growth of musical ideas, ornamentation and muscularity of line (which is usually concealed by filigree… listen to the delicacy enriched with brass and lead of "Da Pacem Domine" [tr.12], for instance) are splendid performing achievements; they are surely only likely to proceed from the mouths and minds of those with a true empathy for Gesualdo's melancholy and mindfulness.
There is also a variety in atmosphere and tenor of the singing: the attack at the opening of "Gaudeamus Omnes" [tr.15], for example, is all but ferocious (as it should be). The rest of the performance of the perfectly-proportioned piece shows unambiguously why we should rejoice; but without ever making too much of the gusto, of the forward and upward sentiment, without trying mere rousing sounds for their own sake. The same holds true consistently throughout the CD. Sentiments are invariably justified. Out of a perfect blend between emotional engagement and detachment the sublime beauty of Gesualdo's music emerges not unnoticed, but never ostentatiously pressed. Wood's work has more than paid off.
This is a well-produced CD by Harmonia Mundi. The acoustic is as close and intimate without being cloying as it should be. You're there with the singers, at their sides as each new idea emerges and is developed; yet they're singing not for you, but for (on behalf of, almost) the sentiments with which Gesualdo is so intensely occupied. As said, the all-important supporting documentation is informative, though scarcely overwhelming; French, Latin, German and English versions of the texts are simply reproduced. Lovers of Gesualdo should not hesitate. Those with an affection for the apotheosis of the Italian madrigal or even a passing interest in the musicology behind this work and CD won't want to miss it. Recommended on all counts.
Copyright © 2013, Mark Sealey