Related Links
Recommended Links

Site News
CD Review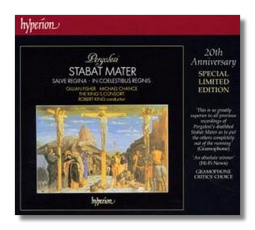 Sacred Music
Stabat Mater
Salve Regina in A minor
In coelestibus regnis
Gillian Fisher
Michael Chance
The King's Consort/Robert King
Hyperion CDA20294 55m
This version of Pergolesi's 'magnum opus' comes into direct competition with Hogwood and his Academy of Ancient Music on Decca 'Oiseau-Lyre. Although I marginally prefer that recording for its inimitable thrust and dramatic drive, King and his exemplary forces are definitely not to be discounted. Both Gillian Fisher and Michael Chance are splendid soloists and the orchestra plays with wonderful vision, no doubt some players are duplicated, as is the norm with period orchestras.
And King scores in his couplings, the trenchantly mysterious 'Salve Regina' and the forward looking 'In coelestibus regnis', another example of this young composer's talent in writing for voices.
Many who have bought this disc will prefer it to the Hogwood as it has been recommended by Gramophone but single opinions must differ for healthy debate! The best is to have both versions so if you missed this first time round, then go out and get it before its too late.
Copyright © 2001, Gerald Fenech