CD Review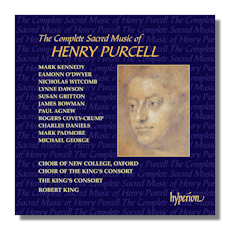 The Complete Sacred Music
Lynne Dawson, Susan Gritton: sopranos
James Bowman, Nigel Short: countertenors
Paul Agnew, Rogers Covey-Crump, Charles Daniels, Mark Milhofer, Mark Padmore: tenors
Colin Campbell, Robert Evans, Micahel George, Stephen Varcoe: bass
Choir Of New College, Oxford
Choir Of The King's Consort
The King's Consort/Robert King
Hyperion CDS44141/51 11CDs 12:18:26
This English oeuvre is of a stature fully comparable with the Cantatas of J.S. Bach and is affordable in Hyperion's budget-priced re-issue of Robert King's ground breaking and definitive recording of 1991-94 for the Purcell tricentenary (check price; in UK c.£65, a boxed set containing a substantial book). Robert King was himself was as surprised as listeners are bound to be by the uniformly high quality of these anthems, services and devotional songs, few of them in current circulation, and many long buried in libraries, unperformed until this project. The Hyperion box of The Complete Odes and Welcome Songs (CDS44031/8) has long been a favourite in my collection, but I think this one caps it.
The variety is astonishing, as also is the compactness of most of the 100 or so works; something for every church's available musicians. Robert King's fully indexed 160 page book (in English only, with small but legible print) is packed with information and illuminates the detailed word-painting that is Purcell's particular miracle, which Benjamin Britten seized upon in his pioneering work to bring Purcell's music to the forefront of our consciousness and through its influence upon his own vocal compositions.
The roster of Robert King's team includes many of our greatest singers and finest baroque players in the last decade of the century. The performances are recorded in an ambience simulating the acoustics of the Chapel Royal, and at the unusually high pitch (A=466) prevalent there, helpful for Purcell's characteristic low vocal writing – Michael George is a stalwart covering the range of Purcell's legendary bass, John Gostling. Pieces intended for performance elsewhere have differing tessitura and are recorded at the 'standardized baroque' A=415.
Other names to conjure with, represented generously through the series, include soprano Susan Gritton, tenors Charles Daniels and Rogers Covey-Crump, and the great counter-tenor James Bowman (still going strong!), all of whom I have enjoyed regularly at Wigmore Hall in this repertoire. There are also many excellent trebles, every one named and equal to Purcell's heavy demands; on Disc 6 (to which I have just been listening) Mark Kennedy is quite extraordinary in dealing so comfortably with being stretched to a two octave span in one of Purcell's most extreme settings, the Devotional Hymn "Great God and just".
Each CD is arranged in a well contrasted programme of differently scaled music, from solo songs with continuo to large works with soloists, choir and orchestra, and it would be invidious to select any one album, even though the CDs are still available separately.
Eleven CDs sounds a lot to invest in, but played through as I have, half an hour or so at a time, you will find them irresistible and become equally captivated and hooked by this short-lived composer's miraculous, inexhaustible imagination, and likely to return to many favourite works again and again.
Copyright © 2002, Peter Grahame Woolf