CD Review
From the Steeples and the Mountains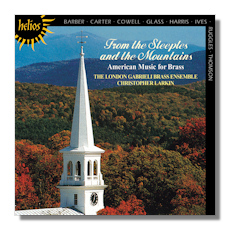 American Music for Brass
From the Steeples and the Mountains
Processional: Let there be light
Samuel Barber: Mutations from Bach
Roy Harris: Chorale for Organ and Brass
Virgil Thomson: Family Portrait
Henry Cowell:
Grinnell Fanfare
Tall Tale
Hymn and Fuguing Tune #12
Rondo
Philip Glass: Brass Sextet
Carl Ruggles: Angels
Elliott Carter: A Fantasy about Purcell's Fantasia upon One Note
The London Gabrieli Brass Ensemble/Christopher Larkin
Hyperion Helios CDH55018 67:36
Summary for the Busy Executive: Repertoire and performances – wonderful.
The first thought that popped into my head about this disc made me angry. A major British label risked something to issue it. American majors (such as they are) tend to hype performers, all sorts of crossover garbage, the temporarily trendy, as well as the umpteenth unnecessary recording of the Eroica, but they haven't the either the curiosity or the intellectual courage to take a chance on their own countrymen, even those with decent track records. Nonesuch's commitment to John Adams stands out for the rarity of the enterprise. Hyperion and Naxos, as far as I'm concerned, stand as paragons for what moderate-to-large labels should do with their resources.
All the composers here are mainly 20th-century American, of course, but unlike many of their European counterparts, you can't group them into "schools." One man's music sounds nothing like another's, and stylistically these scores range all over the cultural map. Some composers consciously strive to write as Americans. Others simply are American and write what they want. Yet not even Samuel Barber (arranging Bach, yet!) sounds to me anything other than American. If style doesn't unite them, then attitude or "soul" does. My country has worshipped the individual to a point of fetish. Almost all of those who shaped our attitudes – Jonathan Edwards, Thomas Jefferson, Emerson, Thoreau, Whitman, Twain, Melville, as well as Zane Grey and Owen Wister – have emphasized the solitary man against an isolated, open landscape. We have very little American philosophy from before 1880 (when we let hordes of furriners come in, like my great-grandparents) that says much about the individual's obligations to society. It's almost always the other way, and it colors our political and cultural discourse down to the present.
The most radical pieces on the program appeared the earliest. Charles Ives wrote the two works here during six months of 1901 and 1902, when he put in a brief, unhappy stint as a church organist and music director at a Presbyterian church in New York City. Unhappy as that made him (and, to be fair, as unhappy as his music made the congregation), he created masterpieces, mostly choral, for the church. Ives was promoted and came to notice as a musical prophet, the guy who anticipated Schoenberg, Hindemith, Varèse, and so on. However, Ives always represented to me the last of the American Nineteenth Century, rather than the first of the Twentieth – indeed, the last American Transcendentalist. Reading his Essays Before a Sonata, you hear the unmistakable voice of Emerson in the prompter's box. From the Steeples and the Mountains epitomizes much of Ives's music. Its inspiration probably arises from a real incident from the composer's youth as he walked on a Sunday in the local hills and heard the bells of four different churches in four different towns playing at the same time different music in different tempos and keys. A reportorial impulse runs through a lot of Ives's music. He wants to give you what he actually heard as well as the impressions it made on him. Here, four percussionists on bells represent the churches, while trombones give us the exultation Ives felt when this particular auditory revelation from the Oversoul walloped him.
Incidentally, this was either the second or third score by Ives I heard. The first, the three Harvest Home Carols appeared on the classic Robert Shaw Chorale album documenting their Russian tour. Lukas Foss and the Cleveland Orchestra introduced adolescent me to From the Steeples. It was still pretty radical music, especially to me and the Cleveland audience, but not just to us. One of my college professors told me that Foss had thrown a timpanist the wrong cue at least three times, but the player (was it Cloyd Duff?) shook it off until the score told him to enter.
As far as I know, "Let there be light" first appeared on a classic Columbia LP of Ives choral music by the Gregg Smith Singers, a major part of the Ives revival which began in the Sixties. Ives originally wrote it with a choral part as well, which the Gabrielis dispense with. I have no idea whether Ives sanctioned this, although as an inveterate fiddler with his music, he very well could have. It begins on a unison C and builds with clusters and polychords. Oddly enough, this results not in murk, but in blinding glare, as if you stared directly into the sun.
Barber wrote his Mutations in 1967, after the hugely public flop of his masterpiece Antony and Cleopatra. That disaster shattered his confidence, and although he continued to receive commissions and produce first-rate work, he sank into depression and alcoholism as he, along with many others, disappeared from serious discussions of contemporary American music. Fortunately, the public never forgot him. Now there's a boom in interest, and obscure and even unpublished scores get recorded. Mutations elegantly arranges the chorale "Christe, du Lamm Gottes" (Christ, you Lamb of God – a German Agnus Dei). It begins with the "original" (who knows?) harmonization by Joachim Decker, at least fifty years before Bach's birth. The chorale tune, however, comes from the Renaissance and its modality foxes Decker in the Baroque era a bit, so that it begins in the key of E-flat and ends in F. Afterwards, Barber moves on to Bach's version of the chorale in Cantata 23, Du wahrer Gott und Davids Sohn (you true God and David's son), along with Bach's organ prelude based on the chorale. In the most intriguing section, Barber puts a recitative bass line from Cantata 23 against a melody from the prelude. The score ends with a return to Decker. A stylish, well-made work.
After competing with Aaron Copland for the title of Greatest American Composer in the Thirties and Forties, Roy Harris fell largely into oblivion from the Fifties on – a real shame, since he's one of our deepest musical minds, although he doesn't have a nice vulgar hit. I doubt most classical-music lovers have heard anything by him other than the Third Symphony, which is hardly as much fun as El Salón México, after all. However, lot of substantial music awaits rediscovery, including the Chorale for Organ and Brass. Noble and genuinely profound as well as very tightly written, it reveals new things to me every time I listen.
I've often called Virgil Thomson just about the only true Modern that America has produced – certainly the one with the most significant achievement – since people like Copland, Ives, Cowell, Harris, and Sessions turn out to be Romantics in the musical equivalent of zoot suits. That is, they aim to express emotions directly in the music, while Thomson and other Modernists offer some distance – an "objective" representation, a Brechtian "alienation," Joycean polyphony, and so on. His extensive series of musical portraits offers a case in point. He actually held sittings, with his subject before him, as he composed. In general, he intends to give a physical impression of the sitter at the time. The thought of being immortalized by Thomson (who had "painted" Picasso, among others) so intimidated pianist Philip Ramey that at his sitting he did nothing, as Thomson stared at him and occasionally put notes down on paper. This resulted in a quiet, reflective piece, somewhat at odds with the subject's state of mind. These portraits thus show a kinship with the Picasso's painting and Gertrude Stein's prose portraits (Thomson moved in their circles during his long residency in Paris) – not that these artists don't express emotion, but they do so through the physical reality, in an "architectural" way. As its title states, Family Portrait concerns a family – the Reas, of which the mother was the daughter of one of Thomson's childhood friends in Kansas City – plus a family friend. Thomson gives us the youthful energy of the son, the charming stillness of the 14-year-old daughter, the business bustle of the father, and so on. None of the portraits lasts very long and sound easy – an illusion. Thomson wrote them for the virtuosic American Brass Quintet and gave the group a workout. "Classy and sassy," to use a favorite Thomsonism.
Henry Cowell stated that he wanted to live in "the whole world of music." Like Ives, he was isolated from the mainstream of American composition in the early days of his career. He began to write at an early age and very largely taught himself, never having formal schooling beyond the third grade. He did study counterpoint with composer and musicologist Charles Seeger, an "ultra-Modern," in the terminology of the day. He grew up in an artistic, freethinking family around the San Francisco Bay area. He was just as likely to have heard Irish and Chinese folk music as Beethoven, maybe likelier. These things contributed to a personality that largely went his own way. In at least a fifty-year career, he remained avant-garde, even when he wrote accessible works. His works, about 1000 of them in all, roam over a vast stylistic range, from "ultra-Modern" to his own brand of Americana to a deep exploration of the music of Asia and the Pacific Rim.
The four works here come from the more accessible part of Cowell's catalogue. Cowell was interested in amateur music-making in his earliest days, when he involved his neighborhood in concerts. However, he had concentrated on writing for professionals until he wound up serving a 15-year prison sentence in San Quentin, at the time one of the worst prisons in the country outside the Deep South – a long story; don't ask. He seems to have been railroaded and got released after 3½ years. The prison had its own band and men's choir, and Cowell began writing for them. Out of this came an enduring interest in band music, particularly music for brass. The remarkable Grinnell College in Iowa commissioned its fanfare to inaugurate a new organ. The work begins with the same stately "feel" as William Byrd's keyboard piece "The Bells," to this day not all that familiar outside the world of musicologists specializing in the Renaissance. Tall Tale shows Cowell's interest in Scotch-Irish folk music and in its transference to the Appalachians. In many of Cowell's symphonies, for instance, the scherzo is a straight-up Irish jig. Tall Tale begins with a jig, but it quickly becomes a country fiddler's jam, as the brass engage in call-and-response. Periodically, the jig returns. We also get slow "come-all-ye's." Cowell's Rondo has all the cheery vigor of Renaissance bransles.
Cowell's set of eighteen hymns and fuguing tunes for various combinations to me represent his finest achievement in Americana. Significantly, he doesn't go either the Copland or the Thomson route. Unlike them, he knew quite a bit of folk hymnody and the tradition of the New England singing masters and of the Sacred Harp/Southern Harmony, beyond an occasional cherry-picking expedition. He used these works as an architectural and procedural foundation for an original idiom, modal but Modern at the same time. The hymns are usually broad and reflective, with subtle counterpoint, while the fugues are more openly imitative (more like a round than a classical fugue) and ecstatic. Hymn and Fuguing Tune #12 (1957) calls for, unusually, three horns to bring all this off. The hymn has a touch of East Asian modality (Cowell was into Iranian and Indian music at the time). The fuguing tune surprised me by emphasizing chromatic harmony rather than modality, just as the Colonial and Federal examples by Jeremiah Ingalls surprise with their "correct" counterpoint.
Philip Glass wasn't always Mr. Minimal. His early work show a composer typical of his times and Juilliard education. Of the chief Minimalists, I consider Glass my least favorite. He actually bores me. However, this brass sextet reveals his considerable musicality. Unfortunately, Glass withdrew this piece from his official catalogue, I suspect mostly because it doesn't fit in with the stuff he made his rep on. However, copies of the published score still exist in Britain, thank goodness. After all, a composer isn't always the best judge of his own work. The sextet has three movements: a side-slipping Hymn; a tender Ballad; a swinging Finale.
An ultra-Modern and friend and advocate of his fellow New Englander Charles Ives, Carl Ruggles was also a racist and a severely anti-Semitic S.O.B. Fortunately, I never had to have dinner with him. Like his other friend, Edgard Varèse, he didn't write very much and spent most of his career polishing his music, rather than writing new stuff. Ironically, Jews like Michael Tilson Thomas brought him back into notice while he was still alive, although during his most active years Henry Cowell helped scare up performances, publications, and recordings. Toward the end of his very long life, he re-invented himself as a Frostian New England foxy grampa, touring the college circuit and charming jocks and co-eds alike with bawdy jokes. In reality, he was about as folky as Robert Frost himself. I remember a wonderful Thomas Hart Benton portrait of Ruggles at the piano, a mulish frown on his brow, seeking to wrest the musical Eternal Verities from the Cosmos, as well as Ruggles festivals in the Sixties and Seventies. His music is both tough-minded and tough to crack. He doesn't mean any of it for casual listening. Angels gives you an extremely intense, threatening three minutes of trumpets and trombones with their mutes on. Put any thought of sweetly-smiling angels from your head. These angels will bring you to heaven by scaring the life out of you.
Talk about long lives, Elliott Carter made it into his early 100s, composing great stuff almost to the end. His work divides into two periods: an early Walter-Pistonish neoclassicism up until the very late Forties; an exploratory avant-gardisme thereafter. He wrote masterpieces before and after, and his harder, later work retains the handsome workmanship of his earlier. A Fantasy about Purcell's Fantasia upon One Note (1947) comes from before Carter's shift. Purcell's original fascinated Carter, as well it should, and Carter refers to it in several other scores. This is the most straightforward. Carter translates Purcell's consort of viols into a brass quintet – not all that easy, by the way – and transforms the original into something else. For one thing, the "one note" (in the original, C in the key of F) tends not to call attention to itself in the string sound. Carter has the brass assert the one note (B-flat, key of E-flat, in Carter's version) so that you definitely know it's there.
I want to heap praise on Christopher Larkin and the Gabrielis, in the amounts Fasolt demanded the gods cover Freia with gold. Larkin not only conducts the works which need a conductor, he plays horn in those which don't. The Gabrielis have a wonderful variety of both beautiful and appropriate tones. Their ensemble is Cleveland-Orchestra good. I will be listening to this disc for the rest of my life or the onset of deafness, whichever comes first, not that I'm rooting for either.
Copyright © 2013, Steve Schwartz