Related Links
Recommended Links

Site News
CD Review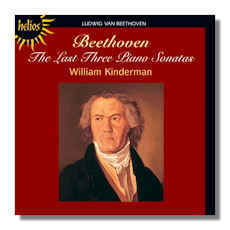 The Last Three Piano Sonatas
Piano Sonata in E Major, Op. 109
Piano Sonata in A Flat Major, Op. 110
Piano Sonata in C minor, Op. 111
William Kindermann, piano
Hyperion Helios CDH55083 67m DDD
The final cycle of Piano Sonatas which Beethoven composed could be said to contain his innermost thoughts and intrinsic brooding on mortality. No other composer ever breached such uniquely forbidding walls of pianistic mastery and even today Op. 109-111 are lofty ivory towers in any pianist's canon.
William Kindermann is suitably equipped to rise to such a challenge especially in the wonderful Op. 109, which is imbued with pianistic virtuosity and deep sense of feeling. Conversely he is as savage and brutal as one could expect in the First Movement of Op. 111; a true exposition of artistic ferocity.
The disc is supplied with excellent notes written by Kindermann himself and is also superbly recorded. This is an ideal introduction to some of the greatest works ever written for the piano.
Copyright © 2002, Gerald Fenech