Related Links
Recommended Links

Site News
CD Review
Classical Trumpet Concertos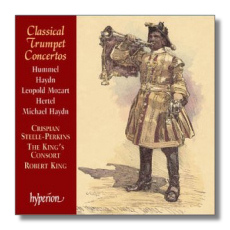 Franz Joseph Haydn (1732-1809): Trumpet Concerto in E Flat Major
Michael Haydn (1737-1806): Trumpet Concerto in C Major
Leopold Mozart (1719-1787): Trumpet Concerto in D Major
Johann Wilhelm Hertel (1727-1789): Trumpet Concerto #1 in E Flat Major
Johann Nepomuk Hummel (1778-1837): Trumpet Concerto in E Major
Crispian Steele-Perkins: trumpet
The King's Consort/Robert King
Hyperion CDA67266 66m DDD
There are many collections featuring trumpet concerti but this one is particularly interesting as it brings together established favourites with rarities of dubious provenance.
F. J. Haydn's Trumpet Concerto is a stalwart work and is played with a natural trumpet here. The difference is quite startling as the sweeter sound of this instrument contrasts markedly with its more common modern counterpart. Haydn's brother, Michael also wrote an interesting concerto that is more in concertino format and here, it is given a vivacious performance by Steele-Perkins and King. The same goes for the Leopold Mozart work, which is also in two movements, an introductory Adagio and a brisk Allegro moderato played at quite a fast pace by Perkins.
Hertel's Concerto is slightly more sedate, here we are back to the three-movement form with a beautifLarghetto that also explores detail quite magically. I was also very much charmed by Hummel's wonderful Concerto that is on the largest and grandest possible scale, being scored also for timpani. It is given a suitably pompous performance here without making it sound staid and the use of period instruments definitely increases the appeal of such music.
The booklet notes are as detailed as one would expect and there is also a splendid front cover, one of the best Hyperion has in their whole catalogue!
Copyright © 2001, Gerald Fenech