Related Links
Recommended Links

Site News
CD Review
Alexander Gretchaninov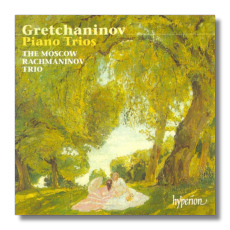 Chamber Music
Piano Trio #1 in C minor
Cello Sonata in E minor
Piano Trio #2 in E Major
The Moscow Rachmaninoff Trio
Hyperion CDA67295 64m DDD
Gretchaninov's music is an interesting sample of Russo late-Romantic music and his chamber works reflect a composer as a master of his craft.
I warmed immediately to the esoteric Piano Trio #1 which contains music of lovely placidity but which is also quite angst-driven in certain places. The Cello Sonata is wonderful in its inventiveness and is very much similar to Taneyev's style, which is definitely one of the pillars of Russian chamber music.
The Second Piano Trio is shorter than its predecessor, although the concise elements of the score bring out a certain individuality. The Moscow Rachmaninoff Trio are literally faultless in their interpretations which are full of colour and amazing vitality, surely the freshness of their compatriot is infectious.
Hyperion's recording is clear and well focused whilst the informative notes shed light on this unrepresented sample of top-class chamber music. Chandos had already issued the trios some years ago with another excellent Russian ensemble, but I do feel that this new CD is now the top recommendation for this collection and also includes the rare Cello Sonata, the cherry on the cake if you like.
Copyright © 2002, Gerald Fenech