Related Links
Recommended Links

Site News
CD Review
Sergei Lyapunov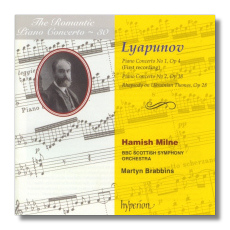 The Romantic Piano Concerto - Volume 30
Piano Concerto #1 in E Flat minor, Op. 4
Rhapsody on Ukrainian Themes Op. 28
Piano Concerto #2 in E Major, Op. 38
Hamish Milne, piano
BBC Scottish Symphony Orchestra/Martyn Brabbins
Hyperion CDA67326 59m DDD
Just a few months after Chandos has issued a fine recording coupling Lyapunov's First Symphony with his 2nd Piano Concerto, the laudable Hyperion 'Romantic Piano Concertos' series continues with Lyapunov's contribution to the genre and a beautiful Rhapsody on Ukrainian Themes.
There is little to choose between Howard Shelley's eloquent account of the E Major and Milne's similarly effusive and well mannered portrayal. Perhaps the BBC Scottish Symphony is a mite more adventurous than their Manchester counterparts with Brabbins a little more triumphant in the concluding Allegro molto than the otherwise splendid Sinaisky. In the First, Milne has the field completely to himself and his ebullient playing certainly makes a cause for this neglected work which is one continuous movement although it has five separate sections, similarly structured to the 2nd which is also a continuous piece. However, the real find in this issue is most certainly the lovely Rhapsody which is brimful of fine melodies and occasionally stirring orchestration that bends quite homogeneously with a virtuoso piano part.
Hyperion's recording is slightly on the low side but this issue can be confidently recommended and those who invested in the Chandos disc should definitely acquire Milne's counterpart and much more besides.
Copyright © 2002, Gerald Fenech