CD Review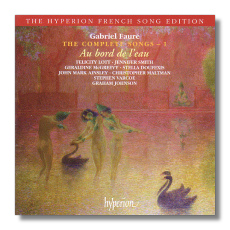 The Complete Songs - Volume 1
Au bord de l'eau
(At the water's edge)
Les matelots, Op. 2 #2 6
Seule!, Op. 3 #1 4
Chanson du pêcheur, Op. 4 #1 6
Barcarolle, Op. 7 #3 5
Tarentelle, Op. 10 #2 2,3
Au bord de l'eau, Op. 8 #1 1
Les berceaux, Op. 23 #1 6
Au cimetière, Op. 51 #2 5
Larmes, Op. 51 #1 6
Cinq mélodies «de Venise», Op. 58 1
Pleurs d'or, Op. 72 Albert Samain 4,5
Accompagnement, Op. 85 #3 7
La fleur qui va sur l'eau, Op. 85 #2 6
Mirages, Op. 113 7
C'est la paix, Op. 114 4
L'horizon chimérique, Op. 118 6
1 Felicity Lott, soprano
2 Stella Doufexis, soprano
3 Geraldine McGreevy, soprano
4 Jennifer Smith, soprano
5 John Mark Ainsley, tenor
6 Christopher Maltman, 7 Stephen Varcoe - baritone
Graham Johnson, piano
Hyperion CDA67333 69m DDD
Hyperion's French Song Edition keeps regaling us with new delights. After Bizet, Chabrier, Chausson, Duparc, Durey, Gounod, Hahn, Saint Saens and de Severac, it is now Fauré's turn to make his bow. Hyperion also inform us that during 2005, all of Faure's songs will be recorded on 4 discs and in chronological order. A most welcome and exciting project indeed.
This first volume takes its name from a very famous song, 'Au bord de l'eau' which made its composer a household name. This disc presents a profuse itinerary of melodies dealing with water, apart from three other major cycles; the 5 Venetian Songs, Op. 58, L'horizon chimerique, Op. 118 and Mirages, Op. 113.
Graham Johnson, the ever present accompanist in this series, has assembled an array of singers considered the finest interpreters of French song. Artists like Felicity Lott, Jennifer Smith, Geraldine McGreevy, Stella Donfexis, John Mark Ainsely, Christopher Maltman and Stephen Varcoe are enough to whet anyone's appetite for this repertoire. Needless to say their renditions of these perfect gems are not only absolutely delightful but delicately performed.
The first volume also incorporates several miniatures to the cycles earmarked earlier on. I encourage all aficionados of this kind of repertoire to invest not only in this Fauré menu, but to take the plunge into the whole series. Still this disc is a good place to start with notes, texts and translations of a high standard, as is usual with Hyperion.
Copyright © 2005, Gerald Fenech