CD Review
Dohnányi, Martinů and Schoenberg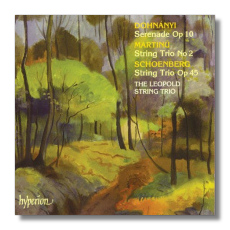 Chamber Music
Leopold String Trio
Hyperion CDA67429 56m DDD
For those who love chamber music, this disc is a real treat, full of evocative and at times, extremely demanding music. It leaves the listener transfixed with the variety and diversity that it offers. Ernő Dohnányi's Serenade in C for String Trio was composed in 1902 during a concert tour to London and Vienna. It was premièred two years later in Vienna with considerable success. The work is in five movements and is in 19th century serenade tradition, as advocated by Fuchs and Brahms, but its deep sense of form and sparseness of means point to a new sensibility on the wake. It is also influenced by Hungarian folk melodies, giving it an unmistakeable mark of the composer's homeland.
Arnold Schoenberg's String Trio, Op. 45 is as I see it, his 'resurrection' piece. The composer had been living in exile in America since 1936, and on the 2nd of August 1946, he suffered a violent heart attack that nearly killed him, in fact his heartbeat and pulse ceased, and he was only revived by a hypodermic injection directly into his heart. Although he recovered somewhat, the remaining five years of his life were those of an invalid, although musically, this is far from the whole story.
In fact just three weeks after the attack, he was working in earnest on the String Trio, Op. 45, a work of astonishing concentration, and which in some measure reflects that harrowing experience. Apart from employing many string tricks, Schoenberg's Trio is also a dare-devil work compressed in one movement comprising five so called 'spans', three 'Parts' divided by two 'Episodes'. In spite of the violent dissonances, rhythmic disruption and melodic fragmentation, it still is a stimulating experience not to be missed.
Bohuslav Martinů's String Trio #2 is the shortest work presented here, but is no less interesting than the previous two. Martinů had been working in Paris since 1923, and when this work was composed in 1934, the composer's star was rising steadily, particularly as an opera composer. It is dedicated to the Pasquier Trio, who gave the première in Paris on the 15th February 1935.
In two movements, the Trio is a prime example of Martinů's fertile imagination that ornaments the work with floating lyrical passages, interspersed with mild touches of folksong, thus creating an atmosphere of magic and mystery. One of today's foremost chamber ensembles, the Leopold String Trio performs these works with passionate virtuosity that is both astonishing and arresting. A wonderful disc, both to stimulate and also to entertain.
Copyright © 2005, Gerald Fenech