Related Links
Recommended Links

Site News
CD Review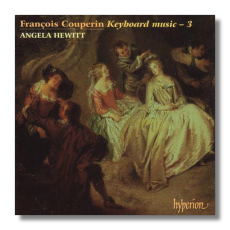 Pièces de Clavecin - Volume 3
Pièces de Clavecin, Book I:
Deuxième Ordre - Les Idées heureuses
Troisième Ordre
Quatrième Ordre - Le Réveil-matin
Pièces de Clavecin, Book II:
Dixième Ordre - La Mézangère
Septième Ordre - La Ménetou
Pièces de Clavecin, Book III:
Dix-neuvième Ordre - La Muse-Plantine
Treizième Ordre - Les Lis naissans
Quatorzième Ordre
Quinzième Ordre - Le Dodo, ou L'Amour au Berçeau
Seizième Ordre
Les Folies françoises, ou Les Dominos - L'Âme-en-peine
Angela Hewitt, piano
Hyperion CDA67520 70m DD
Till Angela Hewitt decided to give her attention to these works, the pieces recorded on this disc were either neglected or forgotten altogether. With this third volume of excerpts from the harpsichord music of François Couperin, Hewitt concludes her personal and far reaching survey of the French master's keyboard works, and being the baroque expert that she is, music which was previously considered the exclusive reign of the harpsichord can be winningly transferred to the modern piano. Her mammoth J.S. Bach undertaking is ample testimony to this. Contrary to her programming on the previous two volumes, Hewitt here only performs one complete 'Ordre' (Suite) – the widely entertaining 13th with its wicked parody of a perverse masked ball. She also tackles 4 pieces from the 14th and as if to celebrate her joy at having successfully ended her task, she performs a wide selection of her favourite pieces taken from Suites not previously featured.
Couperin once said; 'I love much better the things which touch me than those which surprise me'. He wanted music to affect people and these pieces do just that. Full of grace, joy, light heartedness and at times even melancholy and tender sadness. These hidden miniatures also possess a hidden power that arrests the mind and touches the heart.
Hewitt's mini literary masterpiece is not only cause for exaltation, but also a source of encouragement to all those who are not familiar with such a refined style of music. An inspirational issue to complete a memorable mini-cycle which should delight and entertain those who are prepared to let themselves be regaled by these French delicacies.
Copyright © 2005, Gerald Fenech