Related Links
Recommended Links

Site News
CD Review
The Language of Love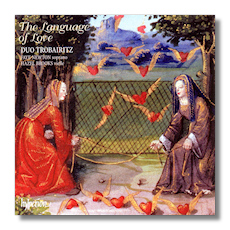 Songs of the Troubadours and Trouveres
Bernart de Ventadorn: Can l'erba fresch' el folha par
Colin Muset: Volez oir la muse Muset
Gaucelm Faidit: Lo rossinholet salvatge
Giraut de Bornelh: Reis glorios, verais lums e clardatz
Anonymous
Por coi me bait mes maris
Dansse real
La tierce estampie royale
En un vergier lez une fontenele
La Prime Estampie Royal
La Quarte Estampie Royal
En ma forest
Bele Doette
Faye Newton, soprano
Hazel Brooks, vielle
Duo Trobairitz
Hyperion CDA67634 65m DDD
This music of a truly bygone age might not be as fashionable as in the time it was written, but the subject of love, the pain of unrequited love at that, is still wholly relevant as it was in the 12th and 13th centuries. The word troubadour means finders or inventors who went around hoping to win the hands of some handsome lady or enter into an adventure that could appease their dreams and ambitions.
The programme on this disc has been carefully assembled as the many aspects of love, such as its sorrows and joys, the pleasures of spring, foiled seductions and cruel husbands are all passionately explored in these poetic songs that remind one of the days of chivalry and the serving of a liege-lady that went with it.
This debut CD by Faye Newton and Hazel Brooks who perform under the name of Duo Trobaritz is a most auspicious undertaking, and their delightful introduction to this vibrantly emotional repertoire promises a splendid career.
Copyright © 2007, Gerald Fenech