Related Links
Recommended Links

Site News
CD Review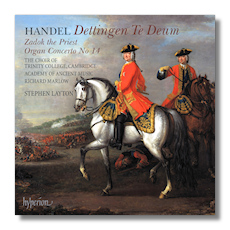 Dettingen Te Deum
Te Deum in D Major "Dettingen", HWV 283
Organ Concerto No 14 in A Major, HWV 296a
Zadok the Priest, HWV 258
Neal Davies, bass
Richard Marlow, organ
The Choir of Trinity College, Cambridge
Academy of Ancient Music/Stephen Layton
Hyperion CDA67678 61m DDD
This splendid disc has to be one of my prime contenders for CD of the year. It is a marriage in heaven; superb choral music, sonorously sounding period instruments and Handel's superb music to crown an achievement which is all too rarely heard nowadays.
I was rather unfamiliar with the sheer splendour of the "Dettingen Te Deum", a work which most certainly deserves much more frequent airings. The pomp and pageantry of the music are superbly captured by the AAM and the Trinity College Choir who perform the work to the manner born. The choruses are particularly effusive and sonorous with the stunning recording adding gloss to what is already a superb achievement.
The Organ Concerto is a welcome respite from the at times too wondrous music of the Te Deum and provides the other side of Handel in some splendid playing by Richard Marlow. And what better way to conclude a disc than the masterpiece of all Coronation Anthems, "Zadok the Priest" which has never sounded better? Truly a disc which cannot be faulted, sound, interpretation, detailed notes and first class recording, it has them all. Just go out there and buy it!
Copyright © 2008, Gerald Fenech