Related Links
Recommended Links

Site News
CD Review
Legacy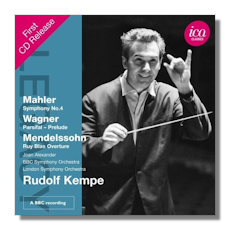 Joan Alexander, soprano
BBC Symphony Orchestra/Rudolf Kempe
* London Symphony Orchestra/Rudolf Kempe
ICA Classics ICAC5117 74:38
In terms of Mahler's music, Kempe's recorded legacy includes the First and Second Symphonies and Das Lied von der Erde, all originally released by the BBC Classics label and re-released on BBC Legends. Archipel has released a 1948 live recording of the Fifth Symphony with the MDR Leipzig Radio Symphony Orchestra. That may be it – and on the strength of this recording it's a real shame that there is so little recorded testimony to a penetrating Mahler interpreter.
The web retailer ArkivMusic currently lists 132 different recordings of Mahler's Fourth, and there are surely many more out there. It is hard to imagine that at the time of this 1957 performance of Mahler's Fourth Symphony there were only three recordings of what is probably Mahler's most popular symphony available. Mahler was still a little-known and somewhat distrusted composer. So it is all the more remarkable how compelling this performance by Kempe and the BBC Symphony is.
Kempe's characteristic virtue as a conductor is a remarkable clarity and ability to keep the orchestral lines audibly distinct and yet integrated. This is very important in Mahler and Kempe delivers a fine interpretation of the Fourth. His approach is precise, with a clear sense of purpose and direction.
Kempe's interpretation is very un-mannered, which is refreshing – perhaps with Mahler so relatively unfamiliar to the concert-going audience there was no need to exaggerate to mark out a distinctive interpretation? The slow movement is the real heart of the symphony and Kempe brings out a wonderful cantabile line. There is fine singing in the final movement from Joan Alexander, the Scottish soprano who died in 2010 at the age of 98.
Kempe is much better known as a Wagner conductor. There are (at least) two live Ring cycles available, including a 1957 performance from Covent Garden and a 1960 performance from Bayreuth, in addition to a Parsifal live from Covent Garden in 1959. His affinity with Wagner emerges very clearly in the Parsifal Prelude presented here. Kempe allows the richness and intensity of Wagner's emotional world to emerge without luxuriating in it.
With more than acceptable sound quality, this disc is highly recommended.
Copyright © 2014, José Luis Bermúdez