CD Review
Symphonies by Mengelberg
Volume 1
Symphony #2 in D Major, Op. 36 (1802)
Symphony #7 in A Major, Op. 92 (1812)
Concertgebouw Orchestra/Willem Mengelberg
Iron Needle IN1422 ADD monaural 73:02

Volume 2
Symphony #4 in B Flat Major, Op. 60 (1806)
Symphony #6 "Pastoral" in F Major, Op. 68 (1808)
Concertgebouw Orchestra/Willem Mengelberg
Iron Needle IN1426 ADD monaural 74:58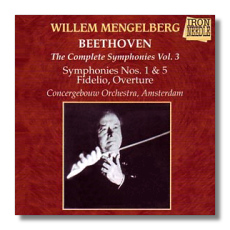 Volume 3
Symphony #1 in C Major, Op. 21 (1800)
Symphony #5 in C minor, Op. 67 (1807)
Overture "Fidelio", Op. 72b (1814)
Concertgebouw Orchestra/Willem Mengelberg
Iron Needle IN1429 ADD monaural 60:43

Volume 4
Symphony #3 "Eroica" in E Flat Major, Op. 55 (1803)
Symphony #8 in F Major, Op. 93 (1812)
Concertgebouw Orchestra/Willem Mengelberg
Iron Needle IN1435 ADD monaural 76:15
Willem Mengelberg was one of the 20th century's most controversial conductors, as much for his politics as for his musicianship. His years as conductor of the Philharmonic-Symphony Orchestra of New York (later the New York Philharmonic) were crucial to that orchestra's development, but his triumph was cut short by Arturo Toscanini – co-conductor starting in 1927 – whose "platform" of utter fidelity (whether actually carried out or not) to the composer's score, and reputation as a reformer led to the much more subjective Mengelberg's loss of the position in 1930. He returned to his native Holland and continued conducting the Concertgebouw Orchestra, an orchestra on whom he had similarly salutary effects. Unfortunately, Mengelberg managed to get entangled with the Nazis, and despite examples of his support for Jewish musicians, the net perception was that he was a Nazi collaborator, and he was banished from Holland in 1945. He died in 1951 while exiled in Switzerland, shortly before he was to have been allowed back in his homeland. Even after his death, his reputation has not recovered to its deserved level.
These four discs are required listening for anyone interested in great conducting in a full-blown Romantic style. The recordings were made in April of 1940, and are not to be confused with commercial recordings that Mengelberg made for Telefunken a few years earlier. These "live" performances have been available on different reissue labels before now, but distribution has been inconsistent, and it is good to have this opportunity to hear them again, or for the first time, as the case may be. A "Choral" was done at the beginning of the following month, and I assume that Iron Needle will get around to making that available as well. (An interesting Mengelberg discography has been done by Takeshi Hasegawa.)
Mengelberg was born in 1871, and he was almost 70 when these performances took place. Listening to him gives one an idea what Mahler must have been like on the podium. (The two men were personally acquainted, Mengelberg was a strong advocate of Mahler's music, and both conductors espoused the use of retuschen – "retouchings" – in order to realize composer's 19th-century intentions with a 20th-century orchestra.) His reputation as an old-fashioned link to olden days probably hurt him during his New York years. You'll hear some things in the string section on these recordings that are not common anymore: the generous use of portamenti, and a sparing use of vibrato. The portamenti play a considerable role in Mengelberg's careful phrase-shapings, and they still have a buoyant charm that is hard to duplicate or counterfeit.
A good to place to start would be with the first disc and Beethoven's Second and Seventh Symphonies. The sound, while variable, is always listenable, and the performances are strong, displaying Mengelberg's many strengths while avoiding his less pleasant quirks. (One of the conductor's nicknames is "Mangle-berg," a mark of his creative interpretations.) Although it can't be said that this Seventh begins with a good unison chord, several studio-based recordings have the same fault, and so Mengelberg is in good company. Beyond that, his reading is dynamic (almost to the point of volatility), and detail- and color-oriented. Mengelberg was one of those conductors who was not against subtly rewriting the score's dynamics or orchestration in order to expose details that frequently were obscured in the concert hall. Sometimes he did this by broadening tempos or by idiosyncratically shaping phrases. In his book, The Compleat Conductor, Gunther Schuller takes Mengelberg to task for his misguided attempts to reveal difficult details because, in so doing, Mengelberg's distortions merely succeeded in hiding other details. There's no arguing with the audibility or non-audibility of notes. Schuller, however, tends to exaggerate the correlation between the score's letter and the score's spirit, and I think that that there are some musical components and effects that can neither be parsed nor measured. Mengelberg's palpable joy in this performance of Beethoven's Seventh has rarely been matched and never exceeded. Having said that, I agree with Schuller's assertion that many conductors are much too slow in the Trio of the Seventh's Scherzo, and Mengelberg is a particularly egregious offender here, although there is a perverse fascination to it all!
Another highlight of this series is the "Pastorale." Many conductors equate the pastoral with the somnolent. Mengelberg (like Doráti, in his excellent Mercury Living Presence recording of the same symphony) is wide-awake in the first movement, and as a result, Beethoven's "cheerful feelings" about his day in the country are fully realized. In contrast, the second movement's "Scene by the Brook" is very leisurely, suggestive perhaps of unseasonable warmth. A droll peasants' dance is succeeded by a powerful, damaging thunderstorm, and the finale is radiant with peace and love.
In fact, there really aren't any weak performances here, except perhaps for that of the Eighth Symphony, whose outer movements come across as heavy-handed. (Some really weird things happen with tempo three minutes into the finale of the "Eroica," but I still haven't decided how I feel about them. In fact, the more I listen, the more convinced I am is that they're a problem with the original recording, not with the conductor!) The thing to watch out for is the sound, whose quality fluctuates widely from disc to disc, symphony to symphony, and even from 78rpm side to side. At times, the original materials are quiet, but at other times they are intrusive. The "Eroica" is taken from a very noisy source, and the recording is a minefield of sonic oddities, from clunks and thuds to what sounds like gain-riding.) The opening of the Fourth sounds as if it were recorded in a rain barrel, although it improves as the music goes on. Overall, though, the music-making is so strong that only fussy people will have a problem with the sound quality.
Iron Needle's annotations are minimal: just a chronology of the conductor's life. Mengelberg's conducting speaks for itself, though.
Copyright © 1999, Raymond Tuttle