CD Review
Music for a Glass Bead Game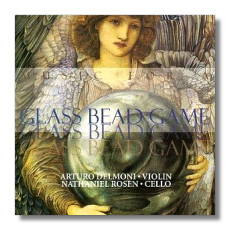 Duos for Violin & Cello
Arturo Delmoni, violin
Nathaniel Rosen, cello
Produced by John Marks
Recorded by Jerry Bruck at Purchase College, Purchase, New York, May 22 and 24, 1997
John Marks Records JMR15 DDD Total time 62:34
This recording brings together two important twentieth-century duos for violin and cello. For variety and contrast, they are presented with shorter baroque and classical works arranged for violin and cello. The result is a fascinating and delightful program.
Kodály is neither Romantic not Modern; he is sui generis, in a class by himself. His roots run deep into the Hungarian folk tradition, which he studied and championed and then distilled into a very refined personal style. His sound is sometimes similar to that of his countryman Bartók, but I find it more lyrical, introspective, and subtle. It's deceptively simple on the surface, but this economy transmits musical expression of great depth.
Delmoni and Rosen play the Kodály Duo passionately and with a rich, resonant tone. The Adagio is searching, mysterious and dark, and it is given a sympathetic reading here. Overall, this performance is very smooth and polished, with moderate tempos and very clean intonation and articulation. This is in contrast to the more astringent tone adopted by Josef Suk in his live performance with André Navarra on Praga, a more typical East European sound. Delmoni and Rosen sound restrained by comparison, but they are just as expressive in a different and less direct way.
The Martinů Duo is a short and powerful piece with some very effective contrasts between the two movements. The first is eerie, spooky, even creepy, but with counterpoint as precise as that of Bach. It is dissonant and tightly organized to great effect. The second movement shares the sense of precision but has a very different feeling; made up mostly of fast runs, it is lighter, even amusing. And the time signature keeps changing. In the middle of this mad Rondo is a short passage where the mood of the Prélude returns, briefly, while the rest of the movement runs rings around it. (My interpretation of the work is as a quasi-religious dyptich of ominous death balanced by exuberant life. And always in the midst of life, the spectre is with us.)
Delmoni's brilliant passagework and Rosen's earthy tones are well suited to putting across the various moods of this piece.
Tommaso Giordani wrote operas and songs and was based in London and Dublin for the better part of his career. His Duetto is a pleasant, if somewhat predictable, collection of early Classical figures and gestures.
No transcription is credited for the Bach Inventions, and I have no doubt they are played straight from the keyboard score. Alongside the bright, inventive pieces described above, the Bach seems somehow dull, and perhaps they are played this way deliberately. The Inventions are included to provide contrast to the Kodály and Martinů works. After hearing Bach we are more aware of the freedoms these later masters enjoy. The Bach pieces are taken very seriously indeed.
The recital ends with a Handel passacaglia, a brilliant set of variations taken from one of the Suites for keyboard. All the contrasts presented in the rest of the program are summed up here, all the colors and moods are repeated in miniature, bringing the hour to a suitable close.
The recording and production are excellent, as always from this label. The sound of the performance is captured in a natural ambience, somewhat reverberant, with a very lifelike presence.
Copyright © 1997, Paul Geffen