Related Links
Recommended Links

Site News
CD Review
Misato Mochizuki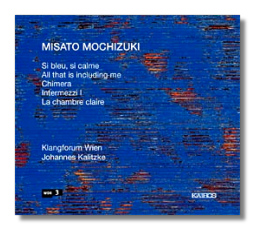 Music for Ensemble
Si bleu, si calme for ensemble (1997)
All that is including me for bass flute, clarinet and violin (1996)
Chimera for ensemble (2000)
Intermezzi I for flute and piano (1998)
La chambre claire for ensemble (1998)
Klangforum Wien/Johannes Kalitzke
Kairos 0012402KAI 2001/2002 54mins
The first CD devoted entirely to Misato Mochizuki's music is a triumph. I first became aware of this young Japanese composer's exceptional talent in Stuttgart with au bleu bois, a marvellous piece for unaccompanied oboe which ought to be taken up by enterprising young oboists as a change from Britten's Ovid Metamorphoses.
Born in 1969, she had appeared as a piano concerto soloist with Rostropovich at 14. An established composer in Europe, she brings together aspects of the 'sounds, timbres, gestures and sensibility of Japanese traditional music with those of Western modernism' (Christopher Ballantyne in IRR) and her wonderful sound world is one of strange and great subtlety and ready accessibility. Whilst most of the scores are predominately quiet and gentle, the ear is captivated continually.
Intermezzi I is a sequence of exquisite fragments for the avant-garde flute of today, whispered voice and the piano, its interior as well as the keyboard. Her reference sources are wide, and Chimera draws on techno dance music. All that is including me draws on gagaku methods. Excellently recorded and produced by Kairos, Misato Mochizuki's booklet notes give helpful references and clues to the music's genesis. Only 54 minutes but they are continuously inventive and engrossing; you will want to listen again and again.
Copyright © 2004, Peter Grahame Woolf