SACD Review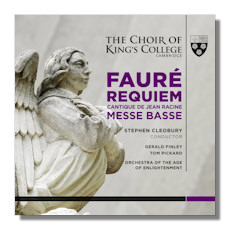 Requiem *
Cantique de Jean Racine **
Messe Basse **
* Gerald Finley, baritone
* Tom Pickard, treble
* Douglas Tang, organ
** Tom Etheridge, organ
Choir of King's College Cambridge
Orchestra of the Age of Enlightenment/Stephen Cleobury
King's College Cambridge KGS0005 Hybrid Multichannel SACD
If you've lost track of the versions of this evergreen Requiem, be not alarmed. I have too. Evil Penguin Classics told me there were three versions of the work, and perhaps that's the evil part; there are quite a few more if you count arrangements and editions and other such nonsense. In any event, the King's College label makes no such claims, deciding to present a comprehensive history of the work in the insert, and Marc Rigaudière's new version on disc. It's for liturgical use, whatever that means, and then they stick John Rutter's Offertoire on to the conclusion. To be fair, the interesting notes do tell us exactly what this all means, and I suppose as a practicing Catholic (King's is Anglican and shares many traditions) I should care. But the fact is that all of this is rather trivial and outside musical considerations. We should perhaps be grateful that someone has trimmed the text to make it usable in religious settings – never mind that we probably do already – but the main question that I have is "Do the changes and performances justify another Requiem purchase?". Yes and no, I'm afraid.
The text changes are basically insignificant; the choir still sounds just right in this work, and they could be singing in French and it would likely sell copies on the choral sound alone. The sound is faithful to the acoustics, and the orchestra is similarly well caught by the microphones. The players also strive to give the music a swifter, leaner feel, something I wholeheartedly approve of. In fact, the entire work is rather on the quick side, and nothing lumbers about. However, despite the wonderful playing and singing, there is a certain sense of something missing. Even for Fauré, the results are a touch lacking in intensity. And again, the new edition is hardly essential, though Rutter's (complete) arguably is.
If the Requiem has a new edition, then naturally, the other works would have to be the originals, just because, right? Thankfully, they are outstanding regardless of all this scoring talk. The Cantique actually does have this wonderful choir singing in French, and the results are as lovingly blended as you could wish. As for the Messe Basse for high voices, I rarely enjoy the work, but it's naturally well-sung by these famous trebles. The whole disc is a joy from a technical perspective. I don't feel in any way that this is nearly as revelatory or important as the Mozart Requiem disc on the same label, but fans of the choir doubtless want to know if these forces still bring the goods since their classic 1967 effort in this music. Absolutely, without question. Just ignore the question of editions and such. It's getting silly.
Copyright © 2014, Brian Wigman