Related Links
Recommended Links

Site News
CD Review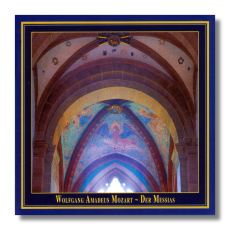 Der Messias
Arrangement of Georg Friedrich Handel's Messiah, Sung in German
Marlies Petersen, soprano
Margot Oitzinger, alto
Marcus Schäfer, tenor
Marek Rzepka, bass
Maulbronn Chamber Choir/Jürgen Buday
K&K KuK61 2CDs 133m DDD
The small but enterprising German label K & K continue to regale the discerning collector with lavish productions of selected works in the magnificent setting of the UNESCO World Heritage, Maulbronn Monastery in the heart of Saxony-Anhalt, Germany.
After releasing what can only be termed as a rather excellent 'Messiah' they have now turned their attentions to the Mozart arrangement of the same work sung in German. With such miraculous acoustics available, the recording is truly a sonic gem especially with the distinguished and alert playing of the Hannover Chamber Orchestra which infuses the orchestral parts Mozart composed with vitality and great energy.
The quartet of soloists does not include any real big names but they are all of the highest quality. I was particularly taken with Marlies Peterson whose ethereal capacity for high notes reminds one of the more highly rated Renée Fleming. Rzepka is also very strong as the bass whilst the monastery choir sings with élan and perfect diction, being here on home ground.
Booklet notes are suitably ample as are the recording details which include some stunning photographs of the performance. If you are looking for a high quality 'Messiah' in the Mozart arrangement, then you should look no further than this really excellent German production.
Copyright © 2007, Gerald Fenech