DVD Review
Fine Productions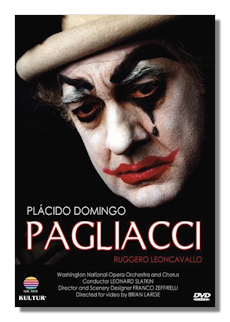 Pagliacci
Placido Domingo - Canio
Verónica Villarroel - Nedda
Gregory Yurisich - Tonio
Manuel Lanza - Silvio
David Cangelosi - Beppe
Washington National Opera Chorus
Washington National Opera Orchestra/Leonard Slatkin
Director & Scenery Designer - Franco Zeffirelli
Video Director - Brian Large
Recorded Live at the John F. Kennedy Center for the Performing Arts Opera House in November, 1997
Kultur DVD D4707 79m Fullscreen Dolby 5.0/2.0

Cavalleria Rusticana
Ildiko Komlosi - Santuzza
Sung Kyu Park - Turiddu
Cinzia de Mola - Mamma Lucia
Marco di Felice - Alfio
Barbara di Castri - Lola
Teatro di San Carlo Chorus
Teatro di San Carlo Orchestra/Zhang Jiemin
Maurizio Scaparro - Stage Director
Nicola Rubertelli - Set Designer
Zaira De Vincentiis - Costume Designer
Giuseppe Perrella - Lighting Designer
Recorded live at the Antiche Terme Romane, Baia, July 2007
Bonus: Behind the scenes (31m)
Arthaus Musik Blu-ray DVD 107331 78m LPCM Stereo DTS
Both productions of these two popular operas are exceptionally fine ones and both feature splendid performances by soloists, chorus and orchestra. Franco Zeffirelli's Pagliacci has just about everything you'd expect from Zeffirelli: there are huge scenes with many colorfully-attired people milling about, and splashy sets that effectively convey the circus atmosphere of the story. It would be hard to count all the extras on stage, some of whom appear on balconies on several levels of the cinder-block building at the back of the stage. There is often so much activity on the stage it's hard to catch it all, and the camera often misses it as well. In the first act there are circus members tumbling across the stage, clowns juggling lit torches or riding unicycles, children playing or riding bikes, adults hurrying about on business or gathering in crowds. As you watch the splendor of the production, you realize that Zeffirelli could well be called the Cecil B. DeMille of opera. He's probably already been given that tag. Here he offers an updated treatment of Pagliacci, placing the opera's story well into the 20th century, but he nevertheless captures the spirit of the story. In sum, it would be hard to find fault with this visually splendid production.
But, you ask, what of the singing? Gregory Yurisich, as Tonio portraying Taddeo, launches the opera with a splendid Prologue. But, of course, the success of this opera depends largely on the singers cast as Canio and Nedda. Domingo hits a grand slammer with his portrayal of Canio. It's difficult, however, to pick out a highlight or two, since he is simply splendid throughout. But hear him in the knockout number Vesti la giubba, where he pours on the passion and intensity as he tries to laugh through his pain in the realization Nedda has cheated on him. Although, by the time of this 1997 performance Domingo's voice was showing a little strain and had darkened a bit, he is nevertheless fabulous here. As for Nedda, Verónica Villarroel is also excellent: try Stridono lassu, or to sample her dramatic skills, note her brilliant portrayal of Nedda's Colombina. The other cast members are also excellent, and Leonard Slatkin leads the Washington National Opera Orchestra & Chorus with a deft hand. Although this opera was filmed with a 4:3 aspect ratio, the visual properties and camera work are fine throughout. The sound reproduction is also vivid and powerful.
This Cavalleria Rusticana is nearly as good a production. It too offers a fairly traditional treatment in its costuming and sets. Some may not like the acoustics associated with open-air performances, as sonics tend to be a little dry. But really, orchestral details emerge vividly and with plenty of power, and the singers' voices come through clearly and with a fairly natural sound. Even the off-stage number at the opening, O Lola ch'ai di latti cammisa, is presented with the proper sonic perspective. I should mention that the orchestra is situated just below the upper level of the stage in a basin that is surrounded by a walkway sometimes used by cast members and chorus. Thus, the orchestra is often seen throughout the performance and some of the action and singing take place between them and the audience.
Hungarian mezzo Ildiko Komlosi delivers a passionate and intense portrayal of Santuzza. Her voice has a sweetness to its upper ranges and does not exhibit that thickness of sound that so many mezzos do. Her Voi lo sapete is lovely and delivered with utter commitment. South Korean tenor Sung Kyu Park makes a fine Turridu and Marco di Felice is splendid as Alfio. The other cast members and chorus turn in fine work as well. The orchestra, under Chinese-born conductor Zhang Jiemin, performs admirably. Her tempos are generally judicious and her shaping of the score catches all the drama and beauty of this masterpiece. Camera work and sound reproduction are fine.
Copyright © 2012, Robert Cummings