Blu-ray Review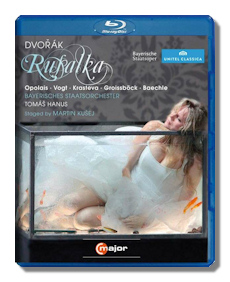 Rusalka
Kristine Opolais - Rusalka
Klaus Florian Vogt - The Prince
Günter Groissböck - The Water goblin
Nadia Krasteva - Foreign Princess
Janina Baechle - Jezibaba
Forester - Ulrich Reβ
Chor des Bayerischen Staatsoper
Bayerisches Staatsorchester/TomᚠHanus
Martin Kušej – Stage Director
Martin Zehetgruber – Sets
Heidi Hackl – Costumes
Reinhard Traub – Lighting
Thomas Grimm – Video Director
Live October 23, 2010 at the National Theater of the Bavarian State Opera, Munich, Germany
Unitel Classica/Kultur Blu-ray BD4801 189 mins LPCM Stereo DTS-HD Master Audio
This is no fairytale treatment of this Dvořák classic: it is a modern take on the story, with the water nymph, Rusalka, and her sisters the victims of abuse, including sexual abuse, by their father, the water goblin. Held captive in a watery basement, or dungeon, Rusalka wants to escape to the outside world. While this production might seem to offer a radical interpretation of the story, one might ask, just what does the fairytale story of Rusalka symbolize? When, in the traditional story, Rusalka tells her father she is in love with the Prince and wants to depart the waters and take on human form, one can see her predicament in a variety of symbolic ways. Director Martin Kušej's interpretation isn't so radical and, moreover, the details of his take on Rusalka fit in pretty well with the action in the story. What Kušej does, in effect, is strip the innocence away and look beneath the fairytale veneer. In different terms, he reads between the lines and doesn't jump to far-fetched conclusions. After all, even so simple a story as Cinderella has spawned all kinds of interpretations: Cinderella is the victim of greed, or of bullying, or of being an outsider, or of class struggle that will lead to proletarian liberation (as the Soviets laughably saw it in Prokofiev's brilliant ballet).
Purists and traditionalists will probably still scoff at Kušej's interpretation of Rusalka here, but certainly not at the performances. Kristine Opolais is simply splendid as Rusalka. She can both sing and act, and she is a beautiful woman besides. I found her performance as Polina in Prokofiev's The Gambler splendid, and she is just as compelling, maybe more compelling, a performer here. Her Měsíčku na nebi hlubokém is splendidly sung and her dramatic skills throughout the opera are arresting: she's an operatic Meryl Streep, conveying so much in a facial expression or a glance. Opolais, whose husband is conductor Andrys Nelsons, gave birth to a daughter in December, 2011, and is scheduled for a return to the operatic stage in May, 2011. We can only anxiously await her return – she is a talent of the highest order.
Klaus Florian Vogt is also excellent as The Prince, as is Günter Groissböck, a villain you will love to hate. The rest of the cast is also excellent. Conductor TomᚠHanus must be given a goodly portion of the credit for this effort, as he draws spirited and accurate performances from the orchestra with tempos that always seem perfectly appropriate.
Costuming and sets are fine, once you have accepted the modern take here, and other elements of the production contribute to the general excellence of this offering. There is a bonus track, The Making of Rusalka, which I found quite interesting. An absorbing, thought-provoking and totally enjoyable recording!
Copyright © 2012 by Robert Cummings.