Related Links
Recommended Links

Site News
DVD Review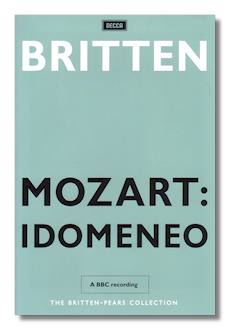 Idomeneo
Complete Opera in English
Peter Pears
Heather Harper
Anne Pashley
Rae Woodland
Robert Tear
English Opera Chorus
English Chamber Orchestra/Benjamin Britten
Decca 0743258 2DVDs 164m DTS Dolby Digital Full Screen
This fourth DVD of the recently issued Britten/Pears mini series recorded by the BBC for television way back in the 1960's and the 70's is for all intents and purposes another resounding success. All four priceless documents were thought lost, but this Idomeneo seems to have had a charmed life more than others. Indeed, three days before the Aldeburgh première, the hall was left in cinders and it is something of a miracle that the television production could actually go ahead.
First broadcast in May 1970, critics and viewers alike were unanimous in their praise. Sung in English to a version prepared by Maisie and Evelyn Radford, Mozart's first operatic masterpiece is even more telling. A lot of credit should go to Britten himself, who not only conducted with committed ardour, but also prepared a musical edition all of his own. The staging has a classical dignity and avoids austerity altogether and both Pears and Harper give impressive performances.
"Idamante" and "Electra" might not have been ideally cast, but both singers display admirable qualities. Brian Large's television direction was as masterly then as it is now. An introductory narrative by the distinguished John Warrack is also an added plus. Filmed in beautiful colour, the finished product is obviously no in the league of today's technological standards, but nonetheless this is a document of inestimable value which should not be missed alongside the other three DVD's of the Britten Decca DVD edition.
Copyright © 2008 by Gerald Fenech