Related Links
Recommended Links

Site News
CD Review
The Stokowski Sound?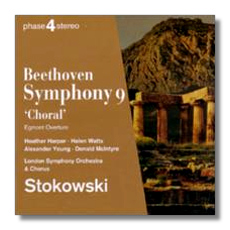 Symphony #9 "Choral" (1967)
Egmont Overture Op. 84 (1973)
Heather Harper, Helen Watts,
Alexander Young, Donald McIntyre
London Symphony Orchestra/Leopold Stokowski
London "Phase Four" 452487-2

Symphonie Fantastique (1968)
Dance of the Sylphs (1970)
Antonín Dvořák: Slavonic Dance Op. 72 #2 (1972)
New Philharmonia Orchestra/Leopold Stokowski
London Symphony Orchestra/Leopold Stokowski
Czech Philharmonic Orchestra/Leopold Stokowski
London "Phase Four" 448955-2
Here is a classic case of something gone wrong and something gone right. I will look at the bad news before the good.
The Beethoven 9th has been considered one of the great recordings of the piece. Recorded when Stokowski was 85 it is exciting and dynamic. The second movement is lovely. This latest mastering provides more detail than the previous one (mine is on the Japanese "King" label). So what' wrong? Well, for starters the dates on the insert are not the recordin dates, but the pressing dates. More serious, however, the bass line is gone. Gone. Somehow they lost it somewhere, because it is on my earlier CD and on the LP. I know this recording well, it was the first "Choral" recording I ever bought. The LP had some reverberation "added per Stokowski's directions. So did the "King" CD. It seems that they went back to the original master tape but not the one approved by Stokowski. At least that is my hunch. So, what we have is a very good Beethoven 9th, but not a Stokowski one. I will keep my Japanese release (see the CDiscography) because what it lacks in detail it makes up for in a rich bass line that is one of the trademarks of The Stokowski Sound.
Now for the good news. The Berlioz disc has the Stokowski Sound in spades. It also has better detail and definition than on the LP or earlier CD releases. There are countless examples where you can now hear plucking on the double basses that is blurred on the LP and earlier CD. The added focus gives the performance a sharper attack. You can more clearly hear the added piano and harps Stokowski felt were needed in the music. More music, more emotion. This added detail changes what I once considered to be an average performance. It is a much more exciting recording than I previously felt. In short, I had to reassess my opinion of this Stokowski recording.
The added pieces are icing on the cake, demonstrating the same improvements as in the Symphonie Fantastique. I should warn you, however, that you will hear the Dvořák in a completely new way. You may hate it, but it is a wonderful Stokowski encore, fitting with the other pieces.
So, we have a mixed bag here. I am sorry to hear the Beethoven 9th sounding drier than it should, but it is exciting. On the other hand I think you will really enjoy the Berlioz disc. So it goes.
Copyright © 1997, Robert Stumpf II