Related Links
Recommended Links

Site News
CD Review
The Art of Julius Katchen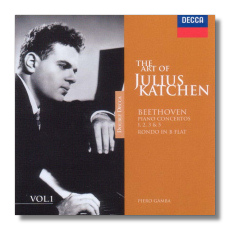 Volume 1
Piano Concerto #1 in C Major, Op. 15
Piano Concerto #2 in B Flat Major, Op. 19
Piano Concerto #3 in C minor, Op. 37
Piano Concerto #5 in E Flat Major "Emperor", Op. 73
Rondo in B Flat Major for Piano and Orchestra
Julius Katchen, piano
London Symphony Orchestra/Pierino Gamba
Decca 460822-2 150m ADD
Julius Katchen was definitely a shining light for pianism in the 1960's and his early death robbed music of one of its greatest interpreters. This is the first of four double albums appraising the pianist's art and they are beautifully presented and recorded in typical Decca fashion.
Beethoven was always one of Katchen's great loves and this definitely shows in the famous cycle recorded with the London Symphony under Pierino Gamba. The martially inspired First Concerto sails along with exemplary gusto and the brisk tempi add to the excitement of the work. In the 2nd, Katchen is also very bubbly and he receives fine support from the dashing Gamba.
The second disc contains the two heavyweights, the Third and 'Emperor' concertos. In the C minor work, Katchen retains a broad expressive treatment of the notes and his Rondo is particularly dazzling. I also enjoyed the stately Fifth with some lovely playing in the Adagio and the massive opening movement quite superbly handled. I also enjoyed the fine Rondo that concludes the first disc.
The album presentation contains two excellent essays by Neville Cohn and Cyrus Meher-Homji that dwell on the nature of the works and Katchen's life. The testament is a fine memorial to a pianist of supreme capabilities.
Copyright © 2004, Gerald Fenech