Related Links
Recommended Links

Site News
CD Review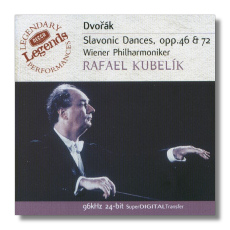 Slavonic Dances
8 Dances "Slavonic" Op. 46 (1878)
8 Dances "Slavonic" Op. 72 (1888)
Vienna Philharmonic Orchestra/Rafael Kubelík
Decca Legends 468495-2 67m ADD Rec 1955
Kubelík's first set of Dvořák's Slavonic Dances was recorded way back in 1955 with the fabulous VPO on really top form.
You sense that this is a special performance from the rushing opening bars of the first dance of Op. 46, the thrilling Decca recording and an unbuttoned sense of virtuosity that is practically unique in the history of these dances. The quieter moments are also winningly done especially the 4th dance from Op. 46 and the lovely 2nd dance from Op. 72. I could go on mentioning incidental details here and there, but it will suffice to say that Roy Wallace and Cyril Windebank's recording is astonishing for its age and the mono sound is occasionally much more preferable than similar stereo alternatives.
Personally, I prefer this dashing exciting reading from 1955 to Kubelík's more relaxingly sedate and polished 1976 outing with the BRSO. The Legends reissue also provides a colour photograph similar to 50's plates and a detailed essay that is a joy to read.
Copyright © 2001, Gerald Fenech