Related Links
Recommended Links

Site News
CD Review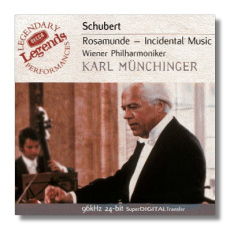 Rosamunde
Rohangiz Yachmi, contralto
Vienna State Opera Choir
Vienna Philharmonic Orchestra/Karl Münchinger
Decca Legends 470261-2 75m ADD
Decca continue to surprise us with the treasure trove of material being released on their enviable Legends label. This beautifully recorded selection of incidental music from Schubert's 'Rosamunde' is truly magical stuff. Karl Münchinger's knowing baton guides us through a miraculous version of 'Die Zuaberharfe' and his loving attention is clearly evident in the Entr'actes and ballet music that make up this delightfully charming work.
The choruses benefit from Münchinger's incalculable experience as a conductor of baroque choral music and his famous recordings always emphasized the group element with understanding fashion. This is now my preferred version of the 'Rosamunde' music.
The accompanying overtures are spiritedly played, especially Weber's delightful 'Preciosa' and the evergreen 'Genoveva', one of my favourite Schumann pieces. We should expect the rest of that famous 'Romantic Overtures' LP before too long. Lovingly annotated and beautifully recorded, this is another gem from the Decca historical analogue archive.
Copyright © 2002, Gerald Fenech