DVD Review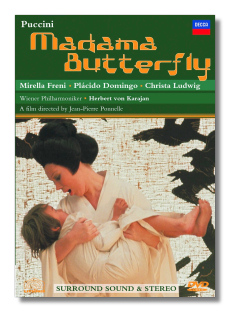 Madama Butterfly
Mirella Freni
Plácido Domingo
Christa Ludwig
Robert Kerns
Michel Sénéchal
Vienna Philharmonic Orchestra/Herbert von Karajan
Jean-Pierre Ponnelle, director
Decca (London) 071504 DVD 147' 1974 Stereo Dolby Digital 5.0
With its rakish ugly American, anti-colonial subtext, and pitiful heroine, Madam Butterfly has to be one of the 20th century's saddest operas. Like Mimi in La Bohème and the eponymous Tosca, Chu Chu San is guilty of loving too much and loses all by defying society's notions of a comfortably conformist life. Puccini's lavish waterfalls of portamenti and crescendi, infused by well-placed dying falls, charge up Madam Butterfly's characters so well that we don't think of posing the questions we do of melodramas: Why did he do that? Why didn't she reject that notion? Sung by Mirella Freni, Butterfly's delusional but stunning aria "Un bel di vedremo" ("One fine day") explains it all.
This production even conveys Puccini's humor, like in the scene when Butterfly's relatives arrive to meet her fiancé, accompanied by jaunty bassoons and giggling strings. Director Ponnelle enhances the bustling effect with rapid 360-degree and high-perspective tracking shots.
As Pinkerton, Domingo is so convincingly cocky you want to slap him for being such a rogue. His muscular tenor voice seduces and self-flagellates with equal aplomb. His poignant farewell to the place of his liaison redeems him musically, if not morally. Freni sings with a simmering emotion that boils over in key scenes like "Che tua madre," which she begins pianissimo and ends in a wail of anguish. While her understated style handicaps her later in Otello (1987), it serves her well as the passive Chu Chu San. As her loyal servant Sukuki, Christa Ludwig acts as well as she sings, adding her seasoned voice to the trio "Io so che alle sue pene."
Ponnelle's cinematic choices sometimes pay off, as when he uses the Act III Prélude to illustrate Butterfly's fantasies of her future life with Pinkerton (complete with slow motion running scenes!) On the other hand, his post-dubbing decisions seem arbitrary, like when he has Butterfly "think" some lines in an aria but not others. The transfer to DVD is puzzling. The occasional flecks early in the film seem to indicate it was transferred directly from film stock rather than a well-preserved negative. It's also not clear whether he intended the muted pastels during filming or whether they've developed because of unstable 70's color dyes. Probably a bit of both.
To summarize, this DVD has average sound and video quality and a few better-than-average singers.
Copyright © 2002, Peter Bates