Related Links
Recommended Links

Site News
CD Review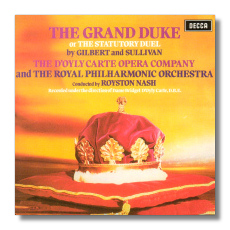 The Grand Duke
'The Grand Duke' (or 'The Statutory Duel')
March & Graceful Dance from Henry VIII *
Overture 'Di Ballo' *
John Reed, Kenneth Sandford
Meston Reid, Michael Rayner
The D'Oyly Carte Opera Company
Royal Philharmonic Orchestra/Royston Nash
* Philharmonia Orchestra/Charles Mackerras
Decca 473635-2 119m ADD
'The Grand Duke' is one of the most enjoyable Gilbert & Sullivan operettas and here it most certainly receives one of its best performances yet. The classic Nash/D'Oyly Carte combination cannot be bettered, at least in my opinion.
This is a mid-70's recording and thus, the sound is crisp and highly enjoyable, this also adds an increased 'frission' and sense of memorable proceedings. Although most of the singers are unknown quantities, they are perfectly at one with the G&S idiom that makes for a sparkling and effervescent performance throughout.
This re-issue which also comes complete with the original packaging and also includes the identical liner notes also has extra items in shape of some music from Henry VIII and a sparklingly delivered 1982 recording of the Overture Di Ballo conducted by Mackerras.
If you missed the original issues first time round, now is the time to acquire these splendid operettas that hark back to the memory of Victorian England with a smile.
Copyright © 2003, Gerald Fenech