Related Links
Recommended Links

Site News
DVD Review
Takács Quartet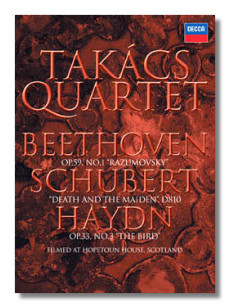 Takács Quartet
Decca DVD 0743140 124m
Although the three string quartets in this issue are substantially different in their emotional content, they have much in common in their superb craftsmanship and wealth of melody.
Schubert's 'Death and the Maiden' is without doubt, the most profound and soul searching of the three, but the Beethoven and Haydn pieces reveal a strong attraction to all that is good and beautiful in life, albeit from different angles.
It must take a super team to capture the wide spectrum of experiences hidden within the depths of these colossal works, but the Takacs' amazing sense of ensemble and compelling involvement are the perfect vehicles to some memorable and exciting performances that live long in the memory. Viewing them is even more absorbing, as one is bound to be caught up in the intense passion and irresistible momentum of the playing.
Filmed in the exquisite setting of Hopetown House in Scotland, this DVD is further enhanced by Mike Newman's masterful direction, and the Takacs player's introduction and dissertation of all three quartets. Full marks to Decca for the release of this top quality audio-visual document.
Copyright © 2007, Gerald Fenech