Related Links
Recommended Links

Site News
CD Review
British Works for Brass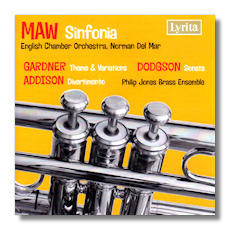 Nicholas Maw: Sinfonia
John Addison: Divertimento for Brass Quartet, Op. 9
John Gardner: Theme & Variations for Brass Quartet, Op. 7
Stephen Dodgson: Sonata for Brass Quintet
Philip Jones Brass Ensemble
English Chamber Orchestra/Norman Del Mar
Lyrita SRCD307 63m ADD (Rec 1970-74)
By the beginning of the 20th century, English music did not enjoy any particular popularity; on the contrary, many were under the false notion that England was a land bereft of great composers. As time wore on, things started changing however and by the early 1970's, this perception disappeared as a number of truly great names and many, not as famous but no less capable, appeared on the scene.
This CD is dedicated to four in the latter category and focuses on works written for brass instruments, apart from Maw's "Sinfonia" which is the most substantial work in the programme. Scored for modest forces, the 3-movement piece is neo-classical in character and movements of complexity alternate with others of a more sedate nature.
Addison's "Divertimento" is a short piece that has a direct and appealing nature with changing moods and dynamics that make it a highly appealing work. "Theme and Variations" by Gardner has a noble yet simple trombone melody as its base, followed by eight clearly defined and well-contrasted variations. Slightly longer than Addison's work, it is very well crafted and the balance throughout is that of a master musician.
Stephen Dodgson's "Sonata" is more serious than the other brass compositions featured on this disc, but with its limpid ideas, breezy melodic invention and unfussy textures, it has a strongly effective communicative language. Performances are nothing short of compelling and the sheer virtuosity of the Philip Jones Brass Ensemble in particular is an event in itself. The recordings dating from the early 1970's are a tribute to their engineers, none other than the famous Decca figures of that golden period of recorded music.
Copyright © 2008, Gerald Fenech