CD Review
The Art Of Camilla Wicks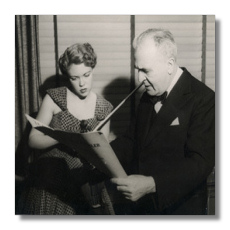 Camilla Wicks, violin
1 Philharmonic-Symphony Orchestra/Bruno Walter
2 Standard Symphony Orchestra, Los Angeles/John Barnett
3 Standard Symphony Orchestra, San Francisco/Arthur Fiedler
Music & Arts CD-1160(1) AAD monaural 78:52
Because she made relatively few commercial recordings, not many remember Camilla Wicks today. (Also, it is easy for violin-fanciers to be distracted by the likes of Jascha Heifetz, Nathan Milstein, Yehudi Menuhin, and Zino Francescatti.) This new release, derived from radio broadcasts in 1950 and 1953, supports the claim that she was worthy of being mentioned in the same breath as the aforementioned male colleagues.
Wicks was born in 1928. (This belies the radio announcer's statement that she was "still a teenager" when she performed the Bloch and the Sibelius on May 28, 1950.) She was a child prodigy, and she studied with the great Louis Persinger at Juilliard when she was ten years old. Later she studied with Henri Temianka. Her New York City debut came in 1942, and her official Carnegie Hall debut came in 1946. She toured Europe, and earned Sibelius' approval for her interpretation of his violin concerto. Wicks retired to raise a family when she was in her early thirties – just when record companies might have snatched her up. She returned to concertizing in 1966, but her performances from that time on were intermittent, although she acquired a reputation as a formidable chamber musician, and also as a teacher, most recently at the San Francisco Conservatory.
The Beethoven concerto, played with conductor Bruno Walter in New York City (I am guessing) on February 15, 1953, receives a glorious performance. (Apparently Wicks was visibly pregnant at the time!) She plays with entirely appropriate classical purity and attention to both form and tone. If a Greek goddess could play the violin, it would sound like this. (She plays the Kreisler cadenzas in the first and third movements.) In 1953, Walter's conducting was not nearly as cozy as it would become in the following decade, when he made his series of "Indian summer" recordings with the so-called Columbia Symphony Orchestra. In fact, Walter is surprisingly volatile here, although never outside of reasonable stylistic bounds. Together, they make "beautiful music," as the cliché goes. This is one of the best performances of the Beethoven I've ever heard.
The other performances remind us of an age when corporate underwriting was more obvious: the "Standard Symphony Orchestra" alludes to Standard Oil! Wicks plays Nigun with passionate intensity, without losing control over the music. In the Sibelius, one can hear why the composer was so enthusiastic over this young woman. The Tchaikovsky movement was broadcast a few months later (July 16, 1950) with Arthur Fiedler on the podium – an example of him not conducting the Boston "Pops"! (Apparently, isolated movements of the Sibelius and Tchaikovsky concertos were all that were broadcast.) Again, Wicks' classy playing is a model of how to keep even familiar music interesting and exciting without resorting to trickery or obvious effects. Granted, these are live recordings, and there are technical faults, but they are very minor, and I hear nothing to suggest that Wicks' technique was inferior, overall, to that of any of her famous male colleagues. There is no doubt as to the excellence of her total musicianship.
The sound of these recordings is very fine for the period. No one but the most tender-eared listeners will be distracted by the minor amounts of noise and other sonic artifacts.
Sibelius: Concerto For Violin & Orchestra In D minor, Op. 47: Allegro, Ma Non Tanto, Standard S.O. (Los Angeles), John Barnett (5/28/50); Tchaikovsky: Violin Concerto in D, Standard S.O. (San Francisco), Arthur Fiedler (7/16/50). Sound restoration: Aaron Z. Snyder. Liner notes by Nathanael Vallois. 78:52
Copyright © 2005, Raymond Tuttle