DVD Review
Mahler Youth Orchestra Plays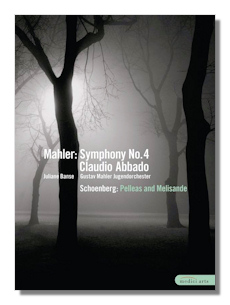 1 Juliane Banse, soprano
Gustav Mahler Jugendorchester/Claudio Abbado
Medici Arts DVD 2055488 DDD 113:00 Dolby Digital DTS LPCM Stereo
Claudio Abbado formed the Gustav Mahler Youth Orchestra in 1986. Each year, over 1500 musicians up to the age of 28 audition for seats with the orchestra, which can be a stepping stone to appointments with major European orchestras. The last pages of this release's booklet list all of the orchestra's members during these concerts from April 2006. Non-European musicians are represented as well. For example, there are members from the West-Eastern Divan Orchestra, Venezuela, and Israel. The Gustav Mahler Youth Orchestra, then, is a veritable United Nations of musicians, and will give hope to those who might otherwise despair that the nations are doomed only to "rage furiously together."
These are two of my favorite late-Romantic orchestral works, but I am not sure that they belong on the same program. Watching this DVD is like consuming two highly caloric meals in a row. It is interesting that both works deal with aspects of innocence. The mysterious, virginal Melisande represents innocence in Schoenberg's symphonic poem (and in Maurice Maeterlinck's drama), and the sung last movement of Mahler's symphony presents us with child's vision of heaven. Of course Melisande perishes at the end, and Mahler's singing innocent reminds us of the darker side of Paradise, a place in which animals are slaughtered, and "a dear little lamb" is led to the butcher Herod and to death. Nevertheless, one wonders if there was a particular reason these two works were selected for a youth orchestra.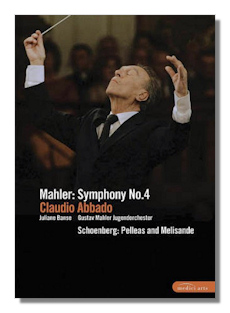 In terms of mechanics, these are excellent performances, but uncharacteristically for Abbado, they don't go very far beneath the surface of the music. Abbado's Mahler DVDs with the Lucerne Festival Orchestra (the grown-up equivalent of the Gustav Mahler Youth Orchestra) consistently hit the mark, leaving this listener wrung out at the end, and certain that almost everything that can be done with those works has been done. This Mahler 4, however, respectable as it is, just leaves me wanting more. Looking at the timings, tempi are not particularly fast, but they sure seem that way. The music glides by. In the final movement, soprano Juliane Banse is fittingly child-like but not arch. Her dress, a bright red number made of what looks like serpent skin, is weirdly appropriate. The same is true in Pelleas: everything happens on cue, but it is more like we are being given a simulation of emotion, not the emotion itself. Maybe it is asking too much from a whole orchestra of 20-somethings to do more. Don't get me wrong: these are not bad performances at all. They simply are not memorable.
The DVD has a nice bonus feature, though. Pelleas is preceded by a 15-minute video essay in which we are walked through the symphonic poem and its leitmotifs. Appropriate Symbolist art, some of it by Schoenberg himself, complements the essay. During the performance, color-coded bands appear on the bottom of the screen to identify the different leitmotifs, and sections of the text of Maeterlinck's drama are briefly projected on the screen. This is a nice and not too intrusive bit of music appreciation – perfect for those who don't know this music very well.
This DVD looks and sounds great, but the sound on the Lucerne Festival DVDs (again) is better. The camera lingers mostly on the faces of the young musicians, not on Abbado, and one is reminded that there are few things as beautiful as the sight of young people playing great music. That's a bit of a consolation, given the muted emotional impact of their playing as an ensemble.
Copyright © 2009, Ray Tuttle