Related Links
Recommended Links

Site News
CD Review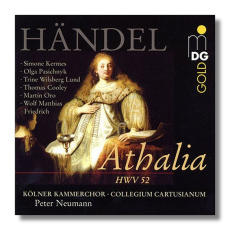 Athalia
Trine Wilsberg Lund, soprano
Olga Pasichnyk, soprano
Simone Kermes, soprano
Martin Oro, countertenor
Thomas Cooley, tenor
Wolf Matthias Friedrich, bass
Cologne Chamber Choir
Collegium Cartusianum/Peter Neumann
Dabringhaus & Grimm MDG3321276-2 2CDs 100m DDD
This is the third English Oratorio by Handel, composed in 1733 for the graduation ceremony at Oxford. It is in 3 acts to a libretto by Samuel Humphreys after the stage drama Athalie by Jean Racine. Incidentally, this was Racine's last tragedy penned in 1691. This biblical account taken from Kings 2, centres on the theme of the triumph of God through the revenge performed by his followers on those who blaspheme and oppose him.
Athalia, the main character of the work, is a Baal worshipper who tries to alienate Jews from their God with some initial success. After a series of events, the unjust queen is defeated following a revolt led by Joas, one of the rightful sons of David's House whose death she sought when he was still a boy. Athalia's fate though remains unclear.
After a very successful première, Handel performed Athalia only sporadically with 5 performances that took place at Covent Garden in April 1735. In 1743, Handel made several changes to the score and in 1756 he ended up with even more changes severely mutilating Act 3 in the process. After the composer's death in 1759, the oratorio fell into oblivion. A sad fate indeed as Athalia can and does hold its own with Handel's major oratorios. The music is superb, noble and inspiring, especially the choruses which form the backbone of the work.
Handel's direct treatment of the drama made him produce a series of masterstrokes, breaking up the schemes of the baroque formal language. Arias, recitatives and choruses all profit from his lavish and quite astounding musico-theatrical imagination. Structurally, Athalia is very similar to its sister works, Saul and Messiah and at the end of the work, one feels the same fulfilment and satisfaction. Soloists, chorus and orchestra are all excellent, and the steady hand of Peter Neumann keeps everything flowing gracefully. Notes, texts and translations are quantitative and qualitative. This is perhap not a collector's item but certainly a version to enthuse.
Copyright © 2005, Gerald Fenech