Related Links
Recommended Links

Site News
CD Review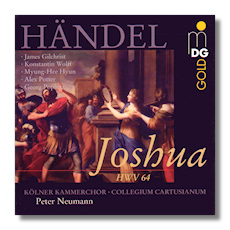 Joshua, HWV 64
James Gilchrist, tenor
Konstantin Wolff, bass
Myung-Hee Hyun, soprano
Alex Potter, alto
Georg Poplutz, tenor
Kolner Kammerchor
Collegium Cartusianum/Peter Neumann
Dabringhaus & Grimm MDG3321532-2 123m DDD
MD&G continues with their excellent recordings of Handel's oratorios hailing from the Cologne stable. They have already issued a number of fine recordings such as "Saul" and "Athalia" and now Peter Neumann and his forces turn their attention to "Joshua", one of Handel's finest yet rather overlooked works.
Neumann has a fine team of soloists to sing the parts and he is also ably supported by the excellent Kolner Kammerchor who are a fine feature of this series of recordings. The notes tell us that this work came just after Handel's great success of "Judas Maccabeus", another pot boiler with some wonderful choruses such as the celebrated "See the conquering hero comes". "Joshua" is slightly less triumphant but it is nonetheless entertaining and full of good Handelian music especially in the second part as the work gets going.
MD&G's recording is suitably translucent and spacious with almost faultless balance between chorus, soloists and orchestra. The libretto is presented in four languages and the notes provide interesting if not too detailed reading. There are other good versions of the oratorio available such as the one on Hyperion which is showing its age now so collectors coming to Handel afresh should not be short changed by purchasing this release.
Copyright © 2008 by Gerald Fenech