Related Links
Recommended Links

Site News
CD Review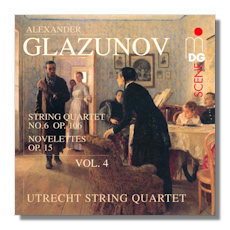 Quartets, Volume 4
String Quartet #6 in B Flat Major, Op. 106
5 Novelettes, Op. 15
Utrecht String Quartet
Dabringhaus & Grimm MDG6031239-2 70m
Just as Mikael Glinka is considered the father of Russian opera, Alexander Glazunov (1865-1936) can be regarded as the pioneer of Russian chamber music. Indeed, he was the first Russian composer to dedicate much of his energies to the chamber genre, and his many pieces testify to his enthusiasm for the form. Unfortunately, Glazunov was also a great symphonist and orchestrator; he has eight completed symphonies, three ballets, several suites, and other characteristic pieces; and this often exciting and colourful repertoire has overshadowed almost completely other aspects of his art. Thanks to MD&G's ongoing series dedicated to his string quartets, we are discovering afresh the consummate beauty of many of his chamber works.
This 4th volume in the cycle groups together a work from his youthful days and one from his mature age. The 5 Novelettes were intended for performance at Belyayev's soirees during the 1885 season, but following their success, they were published a year later as a complete set. Although Glazunov was only 20 when he wrote them, these dance-like character pieces already display the composer's natural ability for rhythmic flair and harmonic invention, and each one has its own special timbre.
The Sixth String Quartet dates from 1921, two years after the formation of the Glazunov String Quartet, and the work has an engaging quality that engrosses the listener throughout. Its absolute formal control, intellectually concentrated profundity of thought and finely nuanced tone colours make it a most deserving example for inclusion in the mainstream repertoire.
The spontaneous performances by the Utrecht String Quartet are consistently alive with ensemble playing of the highest order, and the imaginative spectrum of both works is brought out with felicitous results. This is an invaluable addition to the Glazunov canon in excellent sound and presentation.
Copyright © 2011, Gerald Fenech