CD Review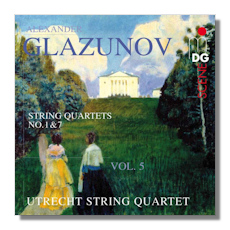 String Quartets, Volume 5
Quartet for Strings #1 in D Major, Op. 1
Quartet for Strings #7 "Hommage au passé" in C Major, Op. 107
Utrecht String Quartet
Dabringhaus & Grimm MDG6031736-2 52min
Writing string quartets was by no means a primary goal among 19th century Russian composers. The accent was on large symphonic works with the aim of establishing a national musical identity to compare with other European greats such as France, Italy and Germany.
Alexander Glazunov's reputation does indeed rest on his eight completed symphonies and many other orchestral works that vary from overtures to suites to symphonic fantasies and poems. But Glazunov lived at a time when chamber music was starting to make inroads within Russian musical circles, and his friendship with Mitrofan Belyayev, a wealthy timber merchant, music enthusiast and passionate quartet player was one of the reasons why he decided to turn to the genre. At sixteen, the young composer completed his studies and finally could turn to chamber music. With his first string quartet and first symphony, the teenage Alexander took Moscow by storm, and from then on his career was never in doubt. Tragically, his later years were ruined by alcoholism, heavy debts and a life of moral squalor. By the time of his death in 1935, Glazunov was only a shadow of his former self. He died in abject poverty abandoned by even his closest friends.
Premiered in the autumn of 1882, the First String Quartet betrays influences of his teacher Rimsky-Korsakov, but the sophisticated blending of Russian folk and Classical elements that were to characterize his later works are also evident. The work is full of youthful exuberance, and a dance-like impetus permeates the piece from start to finish. Only in the third movement Andante does Glazunov introduce a songfully melancholic mood, otherwise it is wit, gaiety and good humour all along.
The Seventh String Quartet is a multifaceted tribute to his home country. He composed it in 1930 in Paris where he had been living since leaving the Soviet Union in 1928. It is one of Glazunov's last works and it seems as if in this work he wanted to encapsulate his homesickness in music. This mighty tribute to his faraway homeland is like the First, in the traditional four movements, and in it, Glazunov admirably shapes gentle, round contours, chisels out succinct rhythms, or simply creates vast melancholy themes in a refined mixture of classical and national-folkloristic elements with mysterious fairy-tale pictures through to a festive ringing of bells.
The Utrecht String Quartet plays these wonderful works with an absolute command of form, and the mental concentration and depth of commitment are a constant cause of admiration. Indeed, the listeners are regaled with a nuanced wealth of tone colours that is wholly captivating. With this fifth volume, MD&G's superb cycle dedicated to Glazunov's Quartets is now concluded. All praise to this enterprising German label for its indefatigable efforts to enrich the catalogue with a vast array of music that is not often experienced. Looking forward to the next cycle, whatever that may be.
Copyright © 2012, Gerald Fenech